BASKING RIDGE, N.J.–In a booming voice, a member of the congregation shouts "Bole…So Nihaal," meaning "whoever says it will be blessed." Hundreds of Sikhs assembled in the gurudwara's main hall respond as one - "Sat Sri Akal," God is true, supreme and eternal.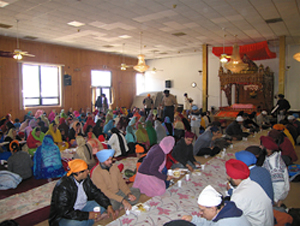 With that, the Sunday morning service at Bridgewater Gurudwara – the Sikh house of worship at 977 Washington Valley Road - comes to a close. But the day is only half done.
As the crowd sits back down in the oak-lined hall, the room begins to buzz. Shuffling their feet, collecting their coats, and dragging along their groggy children, the entire congregation shifts, forming itself into ten long columns stretching lengthwise down the hall. Each person finds a spot in the line, but not one turns his or her back to the wooden stage where the Sikhs' holy text – the "Sri Guru Granth Sahib" – is installed. The whole process takes no more than five minutes.
A young woman takes the microphone and sings a single word - "Waheguru" - again and again. Others join in as they settle down, each set of lips mouthing the woman's mantra, "God is great." Sitting cross-legged on the carpeted floor, the sea of turbans and heads draped in colorful scarves sways to the melody while the faithful wait for their lunch.
First comes the cloth, long strips of black, brown and floral patterns unfurling down the aisles of beige carpet. The diners straighten it, creating a tablecloth of sorts on the floor.
Next, a quick pair of barefoot feet flies down the aisle, depositing a white Styrofoam plate directly in front of each person. Sehaj, a five-year-old boy in a tomato-colored mini-turban that matches his red Polo sweatshirt, follows haltingly. He's holding a shallow steel bowl, nearly too wide for his arms, that is overflowing with plastic spoons. He places a spoon on each person's plate.
Then comes the parade of food. With military precision, nearly 40 men, women and children swarm into the now noisy room, each holding a deep steel bucket. Each smells of something different – lentils cooked in butter, pink coconut rice and potato curry. Divided into sets of five, the volunteers head down each aisle.
Cries of "daal ji, waheguru ji" ("lentils, in God's name") resound through the room, the servers hawking their food as they carefully make their way down the columns of people. Daal comes first, followed by potatoes, pickles, rice, and bread. The Sikhs raise their plates to accept the food passed out to them. When an elderly man comes by handing out chapati, people raise both hands cupped together to reverentially accept God's parshad, his gift of food.
"Pickle, Aunty?" a young girl offers, holding up a piece of pickled mango as she struggles to keep her head covered with a bright blue scarf.
"I don't want the potatoes," a five-year-old girl complains to her mother. "Don't have them, honey, they're too spicy anyway," her mother replies. When they come around, the girl covers her plate with one hand to refuse her share, for to take and then waste God's gift would be disrespectful.
A man in his 50s starts down the aisle, balancing a full pitcher of water in one hand and a stack of sytrofoam cups in the other. "Water, ji," he asks, using the Punjabi word "ji" to connote respect. "You'd like some more? No problem, have as much as you want."
As the congregation feasts, members chat. Mothers discuss their children's schools, fathers catch up on the latest model GPS. The afternoon meal – or langar, as Sikhs call it – becomes a social event, an excuse to gather the community together.
Every Sunday afternoon, the congregation at Bridgewater Gurudwara participates in a Sikh tradition as old as the faith itself. In 1469, Sikhism's founder, Guru Nanak, was born into an India riddled with divisions: Hindu and Muslim, Brahmin and Untouchable, men and women. Most Indians found a host of to avoid sitting and talking with their neighbors -- let alone breaking bread with them.
Nanak, with his philosophy of universal equality, was determined to change that. He held the first langar, a meal where everyone was invited to eat -- on the condition that rich and poor, Hindu and Muslim all sit on the floor as equals and eat the same food.
Sikh legend has it that even when King Akbar, one of the greatest Muslim kings of Mughal India, came to see Amar Das, the third Sikh guru, he was told that he would first have to eat langar with the masses. For Nanak and the rest of the gurus, everyone was the same, no exceptions allowed. "He wanted that everybody should have the courage to eat together," explains Gurprakash Singh, one of the volunteers.
Nanak's tradition has carried on in all Sikh gurudwaras. Most gurudwaras make langar everyday, and feed anyone who asks. Men and women eat together. Muslims and Hindus, regardless of caste, eat with the same utensils from the same bowls. Langar is always vegetarian, so that the food served won't offend any person or group.
Langar also symbolizes the Sikh duty of sewa, or service, to humanity. At the Bridgewater gurudwara, a langar calendar is posted outside each month, and a different family signs up for "langar duty" everyday. That family is in charge of cooking an entire meal, either at home or in the gurudwara's kitchen, for everyone who comes in that day. In Bridgewater, that number can top 600 on a religious holiday. Nobody ever asks for money and nobody keeps accounts.
The volunteers who distribute the food are also performing sewa. Tirelessly they walk row by row, toting heavy loads of hot food while everyone else eats. Anybody is permitted to help, and the volunteers range from young men in Tommy Hilfiger jackets and baggy jeans who hold heavy buckets to old ladies and children who pass out napkins, utensils and cups.
Within 20 minutes, it's all over. Everyone's been served and most have finished eating. As people throw out their plates, the volunteers sit down to eat. They're served by some of the same people they fed minutes earlier.
Still, a few of them head back to the kitchen and emerge with one last offering. Grabbing a steaming kettle and a bag of cups after he straightens the blackberry clipped to his belt, a man walks over to the group of men and their children. "Chai, anyone?"
This Glimpse of Faith was filed by Contributor Neha Singh Gohil