MUMBAI, INDIA–Waqar Khan's shirt shop is nestled among the narrow, trash-strewn lanes of Dharavi in Mumbai, the nearly square mile sea of shanties that comprise Asia's largest slum. A motley array of collared, button-up shirts lay wrapped in clear plastic bags on shelves that line the walls inside the shop. The store, curiously named "Campus Shirts," is the center of a local campaign to foster peaceful relations between the slum's Hindus and Muslims. Khan, a devout Muslim, has dedicated much of his life to spreading a message of religious tolerance in Dharavi.
As the 40-year-old Khan sat at his desk near the shop's front window, smoking cigarettes in a white shirt and neatly trimmed mustache, his daughter, 16-year-old Shagufta, sat by his side, translating his story into English.
Tacked on the wall behind them was a poster of four boys against a backdrop of the Indian flag, each dressed as a member of a different religion: a Christian with a silver cross dangling around his neck, a Sikh wearing a beige turban, a Muslim wearing a dark brown skullcap and a Hindu with a U-shaped tilaka on his forehead. "We are all one," the poster read in Hindi.
In real life, all four boys photographed are Muslims, including Khan's son, the one dressed as a Hindu. Khan himself came up with the idea for the poster and distributed placards of the image throughout Dharavi. The image became ubiquitous when law enforcement officials posted the signs at police stations and traffic stops across Mumbai. For Khan, creating the poster was one of his many efforts in recent years to foster peace in the slum.
Dharavi's cheap rents draw poor migrants from all over India, those who come to Mumbai in search of work and a livable wage. There are anywhere from 600,000 to 1 million people living in Dharavi's shanties, according to published estimates (the city government has never done an official count). With a teeming population of residents of all faiths living in the slum's cramped quarters, it's a potential tinderbox. A spark of religious violence in Dharavi could have potentially catastrophic results.
It's not a merely hypothetical scenario. In 1992, riots erupted across India when Hindu fundamentalists destroyed the 16th-century Babri Mosque in Uttar Pradesh, believing the mosque was built on the site where the Ram Temple once stood. During the tumult that gripped the nation, Dharavi was a focal point of clashes between Hindus and Muslims. In Mumbai alone, 900 people were killed during nearly two months of rioting, according to a city report.
Khan witnessed the mayhem firsthand. "I saw people who knew each other for years [suddenly start] hitting and cutting one another," he said. He watched helplessly as homes and businesses, which people had struggled for years to build, were destroyed in minutes.
It took Khan a lifetime of work to build the shop from which he witnessed the riots. His parents were poor farmers from Uttar Pradesh who migrated to Mumbai seeking a better life. "It was the city of film stars," thought Khan when he was a boy on the train headed to Mumbai. But his image of an opulent city inhabited by Bollywood film stars was shattered by the poverty and filth he found in Dharavi.
Though the slum was not the Mumbai of his dreams, Khan was able to make a life for himself there. First he peddled bananas on the street. Then he sold shirts made of recycled cloth. When he had saved enough money, he bought a sewing machine and eventually began manufacturing new shirts. With more savings, he was able to open the retail shop he now runs.
Peaceful coexistence between Muslims and Hindus allowed him and others to prosper in the slums, said Khan. So when order was jeopardized by the 1992 riots, Khan set his mind to healing the deepening rift that had formed in the wake of the violence.
Khan joined Dharavi's Mohalla Committee, one of several such committees established throughout the city by Mumbai Police after the 1992 riots in an effort to bring together Muslim and Hindu community leaders. Today, committee members of both faiths stay in contact with each other at monthly meetings and maintain lines of communication that didn't exist prior to the riots. They mediate disputes between Hindus and Muslims before arguments spread into large-scale violence and organize community events like cricket matches to bring young people of both faiths together.
"Before the riots, I had only Muslim friends," said Khan. But since joining the Mohalla committee, he's met many Hindus. "If anything happens, I can call them and talk to them. That's the difference now."
In 2002, when clashes between Hindus and Muslims in Gujarat resulted in the deaths of several hundred people, mostly Muslims, the violence failed to spread to the streets of Dharavi as it had in 1992. At the time, an editorial in the Indian Express newspaper credited Mohalla Committees and grassroots efforts of people like Khan for the peace that endured in the slums. But others have their doubts.
"The core issue is not religious misunderstanding," said Jaideep Gupta, a doctoral candidate at Oxford University who studies communal violence in Mumbai's slums. Gupta claims that economic and environmental "vulnerabilities" particular to the slums like pollution and high unemployment make them more susceptible to outbreaks of violence. "If vulnerability was not so rampant in the city, it would be very difficult to recruit people into violence," said Gupta. Nongovernmental organizations that work on environmental initiatives or vocational training in the slums do more to address the root problems, he said.
Khan, however, is cynical about the role such organizations play.
"They come for their own benefit," he said of outside organizations. "They come for the photos and the stories. This is why we don't call ourselves an NGO or a political party. This is why people trust us."
At the outset of the Gujarat riots, Khan decided to use India's most potent medium to further spread his message of unity: film.
Along with actors and a cameraman from Dharavi, Khan filmed a one-minute video promoting communal harmony. "Today people are being used as pawns in political games," says the video's narrator. "We all know that the Ram Temple and the Babri Mosque are not the real issues. People have no drinking water, yet that doesn't become an issue!" The video, which features reenactments of Hindus and Muslims saving each other from the rubble of a devastating earthquake that struck Gujarat in 2001, was broadcast on Indian state television.
Khan then set his mind toward using an even more potent form of film: Bollywood movies. He began splicing together segments from Bollywood classics, creating a dizzying, feature-length medley which advocates national unity. When Dr. Ram Puniyani, a Hindu and teacher at the Indian Institute of Technology, donated 50,000 rupees (about $1200), Khan was able to purchase a projector and screen his film throughout Dharavi.
One scene in Khan's work is culled from the 1994 movie Krantiveer:
The threat of communal riots looms over the village of Laxminagar. Hindus and Muslims are at each other's throats. But a beautiful woman named Megha, played by Dimple Kapadia, rises up and urges the residents to live in peace.
"The people who set fire in our neighborhood were not Hindu or Muslim," says Megha to a crowd. "They were hired by the politicians. Every politician hopes that we grow hatred within ourselves in the name of religion, that we cut each other, hit each other and kill each other. They sit back and watch the spectacle. We won't let that happen."
Like Kapadia's character, Khan is quick to voice his cynicism about politicians who ferment enmity for political gain. The riots in 1992 were incited by politicians, he claimed. "It was not a Hindu versus Muslim problem," said Khan. "It was a political problem."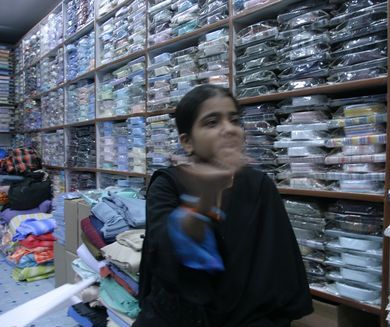 His daughter Shagufta, dressed in a black, flowing dress that covered her from neck to ankle, added some of her own thoughts, explaining why neighbors can suddenly attack one another in the name of religion.
"They respect religion more than their lives," she said. "So if something happens opposing their religion, they get emotional."
"Man should not kill in the name of religion, she added. "Man has made religion, not God."
When asked if she was proud of her father's work, Shagufta said: "He's doing such a good thing. I should be like him."