NEW YORK–In India, their marriage would have been unacceptable. Florence Gershone was raised in an observant Jewish family; Arjun Manglani in an observant Hindu family. But in New York in 1971, they found a way. With most of their family in Mumbai, some 7,800 miles away, the couple took their wedding vows at an Indian restaurant in Brooklyn, ten years after they met.
"If my father found out I was seeing him," Florence Manglani said, reflecting on that day 36 years ago, "he would say, 'Don't you dare think of going outside your community.'" Sitting in her airy kitchen in Midwood, one of the lovely Victorian homes that line the blocks of Argyle Road, she chuckles. "He would have really shot him."
Manglani, 64, is a Bene Israel Jew, one of the three major Jewish tribes in India. Today their numbers have dwindled to around 5,000, and most live in and around Mumbai. The vast majority have immigrated to Israel where they number closer to 50,000. According to people familiar with the Bene Israel community in Mumbai, interfaith marriage, or "inter-caste" as it is called in India, between a Jew and a non-Jew is, in many ways, as taboo as it was in the 1960s when the Manglanis first met at St. Xavier's College in Mumbai.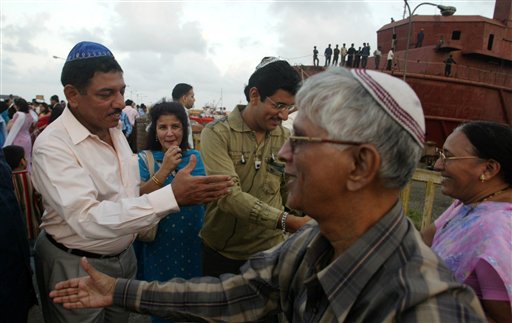 In fact, some experts close to, but not part of the Bene Israel community, were so uncomfortable talking about the subject, they declined to be interviewed. "It's sensitive, it's a threat," said one Jewish professional who works with the Bene Israel, who asked not to be identified. "You are talking about people's children, people's identity."
Dr. George Abraham, a Bene Israel Jew from Mumbai, said, "it is an issue but we cannot stop it."
Abraham, who now lives in the Riverdale section of the Bronx and has been in the U.S. since 1963, added that "the new generation is more Westernized." Abraham said one main reason for interfaith marriage is education. He said Jewish boys often go to school for technical work, while Jewish girls are now getting advanced degrees. Therefore young ladies are marrying outside of the community, Abraham explained. And in the Mumbai region, the tradition is for the women to take on the religion of the men--if that is what he wants.
Some Bene Israel say today about 15 to 25 percent of people in their small community marry outside the religion. The Manglanis say that number is a good deal higher than what they witnessed growing up. In fact, the two can think of a single example: Ms. Manglani's cousin who married a Muslim and moved to California.
"My father got so angry," Ms. Manglani said. "He really felt like it was an insult to the family. No one ever spoke to her."
The warning signs from her father could not have been clearer. But that didn't keep the two from pursuing one another. Sitting around their kitchen table, the Manglanis laugh when they talk about their secretive courtship. Ms. Manglani, who stands barely five feet tall, is the talkative of the pair. She has a warm round race and black hair that falls plainly to her chin. A gold Jewish star hangs around her neck. Mr. Manglani, 62, and a good eight inches taller, is trim with soft silver hair and white bushy eyebrows that meet in the center of his forehead. He lets his wife tell the stories, interjecting when he thinks she missed something.
"He would come borrow textbooks," Ms. Manglani said. "I would say 'Don't come!'...If neighbors saw you they would tell your parents." Mr. Manglani came anyway.
The one breakthrough moment came several years into their relationship, when the two families finally met. As it turned out, both the Manglanis and the Gershones were from Karachi, Pakistan, but had fled that city for the Mumbai region right before the partition of India in 1947. Ms. Manglani described her family, the Gershones, as "the Rockefellers of Karachi." She has pictures of her father standing outside an enormous family compound. Her great-grandfather built the Magen Shalome Synagogue there in 1892. Her grandfather built a larger one to replace it in 1912. The synagogue was destroyed about 30 years ago.
When the Gershones met the Manglanis, they discovered that some of the family members on both sides spoke Sindhi, the language of Karachi. "It had a clinching effect," said Mr. Manglani. "Both the families drank the same water. It was kind of…a rationalization."
After that discovery, Mr. Manglani says his family would tell people that he was marrying "a girl from the same region." He said the main reason his family approved the marriage was because he lived in the U.S., far from the scrutiny of their Hindu community. In 1968, Mr. Manglani arrived in New York City on a student visa to study at the Polytechnic Institute of Brooklyn. Ms. Manglani moved to Toronto, ostensibly to work, and stayed with an aunt and uncle. She had her eyes set on Brooklyn from the beginning. In August 1971, Ms. Manglani finally arrived in New York City.
In December, they were married. Two family members attended the wedding: Mr. Manglani's brother and Ms. Manglani's mother. A year earlier, Ms. Manglani's father had died. Her father never would have accepted the marriage, and she says between her own guilt and the guilt her mother put on her, it wasn't an easy time.
As things turned out, the family they created together has grown to be decidedly Jewish. The couple exposed their son and daughter to both Hindu and Jewish traditions, but the children gravitated toward Judaism. They both had bar mitzvahs and their son is more observant than Ms. Manglani's own family. He strictly observes the Sabbath and considers himself a modern Orthodox Jew. Ms. Manglani keeps a kosher home and she and her husband are very active in the small Bene Israel community in the New York area. Mr. Manglani did not convert, but as his wife says, "he's very open-minded."
Recently, the Manglanis attended a lecture by Dr. George Abraham about the Bene Israel Jews at his synagogue, the Sephardic Jewish Center of Forest Hills in Queens. The lecture did not reveal anything they hadn't heard—Ms. Manglani herself gives lectures on Indian Jews—but they went to support the community.
"Our ancestors were sailors," Abraham said, beginning with the legend of how the Bene Israel arrived in India. "Sailors with the tribe of Zebulon. When the Temple was destroyed in 578 B.C. they picked up their families and went to India and landed on the west coast of Bombay. When they landed, the only thing they could do was oil pressing. They were different than the other locals because they closed on Shabbat. They become known as 'The Saturday Oil Pressers.'"
The Manglanis sat at a round table in the front of the synagogue's basement hall, recording the talk for Abraham.
At one point, the lecture turned to marriage a few generations back. "Were men allowed to marry two wives?" a woman from a Yemenite background asked.
"My grandfather had two wives," Abraham responded.
"My grandfather did also," the woman said.
Abraham touched on marriage in the modern day—not in India, but in this country. Here, the concern for Bene Israel isn't necessarily interfaith marriage, but how to retain Bene Israel traditions when their children marry Jews from different backgrounds, especially European or Ashkenazi Jews.
"The bridegroom marries himself. He does the first Kiddush (the blessing over the wine)" said Abraham, describing a typical Bene Israel wedding. In the Ashkenazi tradition, a rabbi officiates at the ceremony.
"When my daughter got married, my son-in-law wanted to break the glass with his foot," according to his Ashkenazi tradition.
"I said, That's the glass we did Kiddush with. We don't kick it," Abraham went on. "He broke the glass with his hand."
The Manglanis understood the hybrid nature of the ceremony. Their son married a Jewish woman whose family is from Egypt. Unlike their own wedding, which they describe as "Indian" and "secular," their son's was a combination of three Jewish traditions--Ashkenazi, Egyptian, and, of course, Indian.
Enough to make even her parents proud.