VARANASI, INDIA–David Treasure's church, the Church of North India based in the holy Hindu city of Varanasi, organized a rally five years ago. Four to five thousand Christian faithful attended during the first few days of the event. On the fourth day the Hindu extremists showed up.
"They came and stormed the event," Treasure said. "(The extremists) beat people, tore up the stage and they assaulted the leaders."
A few years before this incident, another group of extremists attacked the pastor at Treasure's church and nearly beat him to death. He was attacked for having attempted to convert Hindus to Christianity, reports said.
While Treasure hasn't toned down his personal faith – he proudly wears an "I Love Jesus" cap on Varanasi's busy streets – his church has become subtler in its outreach efforts. It no longer has large-scale revival meetings. Instead, it settles for smaller "cottage" meetings, with dozens to about 200 people attending. It's just not a good idea to have meetings that are going to bring attention, said Treasure, a retired police chief.
Since the 1960s, seven of India's 28 states have passed laws prohibiting religious conversion through coercion, money or gifts. In practice, Hindu fundamentalists have used the law as means to forcibly prevent conversion of Hindus to the Christian faith. In response to these advances, the Christian churches have changed the way they practice their faith.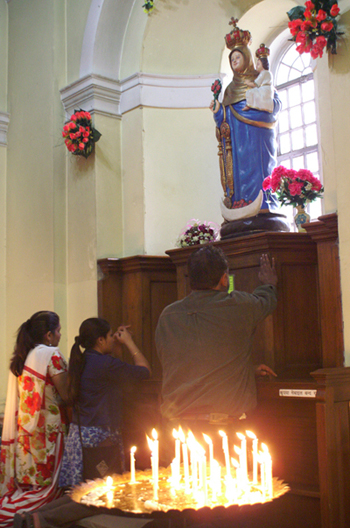 Most of the states that have adopted these laws are ruled by the Bharatiya Janata Party (BJP), a Hindu nationalist political party. But recently Himachal Pradesh, an area in northern India run by the mainstream Congress Party, also passed the law.
For evangelical Christians, for whom proselytizing is an essential tenet of practice, this creates a paradox – do they risk their safety to spread their belief?
At the Colaba Baptist Church in southern Mumbai, churchgoers have also tempered their approach to evangelizing. The church tells its members to pray with people in the street, but not to go door to door pushing their faith.
"We are spreading our faith," said Max Fernand, 39, a parishioner. "But not in a way that is threatening to the people. We have to be sensible. [The fear] keeps us walking on egg shells."
V.J. Joseph, assistant pastor at the church, says Colaba Baptist does missionary work around the country, but stays away from some areas because they are too dangerous. He says it is hard not to extend the reach of his faith, but that the danger is too great. However, his church is trying to broaden its approach and reach more people, despite the danger. This year, the congregation's focus is on doing more missionary work throughout the country, and in rural areas, where Hindu nationalists are said to have their largest strongholds.
The anti-Christian sentiment, these evangelicals say, has been bolstered by the anti-conversion laws pushed by the BJP. But the BJP's followers say they don't support attacks against missionaries, they just want missionaries to stop pressuring people to convert.
"As a party, the BJP is against violence," said Sidharth Nath Singh, the party's national spokesman.
Singh charged that Christian missionaries and NGOs are making promises of jobs, education and benefits to those who convert, and taking advantage of people who don't know any better. The party is supportive of the RSS, the Rashtriya Swayamsevak Sangh, a nationalist cultural organization, which has made re-conversions to Hinduism a consistent practice in tribal villages where missionaries have made conversions.
"It's not that our party is against conversion. If the person wants to convert, that's fine," he said. "But because people are putting pressure on people to convert, and these people are lured by gifts and promises, not by faith, we think that is wrong. That is the principal stance of the BJP."
But church leaders say that the BJP's anxiety over mass conversions is misguided, because the level of Christians in India has been steady, if not slightly dwindling, for years. The most recent census shows Christians making up 2 percent of India's population, in comparison to the 80 percent Hindu majority.
Singh believes that Western governments are funding many of the missionaries working in India, though he did not say for what purpose. Still, he says the focus of the BJP is on the safety of Indians. "We'd like everyone to exist peacefully," he said. However, leaders in the BJP have espoused different opinions in the past. During a ceremony in April 2005, during which Hindus converted hundreds of Christians, BJP leader Dilip Singh Judeo furthered the anti-conversion stance, saying, "If Christian missionaries don't stop converting people we will take up arms."
And Judeo's sentiments have had their effect in the subcontinent. Sat Pal Bhatti, a Hindu who converted to Christianity, has been conducting "crusades" in the rural areas of the Punjab for the last few years. Each time he has held public mass in an open area his operations have been shut down, he said.
"Why is there so much restriction on Christian freedom?" he asked. "They want the whole of the country for Hindus."
Bhatti and his wife recently started their third crusade, with the goal of converting more Hindu youth to carry the ministry into the future. They were expecting it to be broken up once again.
Roman Catholics in India are also feeling the pressure of the anti-conversion laws. But because conversion is not built into Catholicism as it is with evangelical Christianity, the laws pose only a looming danger.
Archbishop Oswald Gracias of the Mumbai Archdiocese believes the laws are being used as a political move to rouse Hindu sentiments. And even though they haven't posed a direct threat to Catholics, he said, they are feeding a fissure between India's faiths. The laws are "creating a divide between two groups that could contribute so much to the country," said Gracias, whose archdiocese, with more than 500,000 Catholics, is the largest in India.
Catholicism has been present in India for hundreds of years. Most Indian Catholics that practice today are not the product of recent conversions, but, instead, inherited the faith from their parents. But there is still a general fear among Hindu fundamentalists that through the church's humanitarian efforts, like helping the poor in Mumbai's slums, conversion is taking place.
Gracias added that the technical wording of the laws make them sound agreeable for every religion, but when put into practice, the BJP and Congress parties are restricting personal rights. "The law on paper says it is against forced conversion and conversion by fraud. You can't argue against that," he said. "That's what the church says also."
The problem for Gracias, as well as Pope Benedict XVI, who recently spoke out against the laws, is that when situations occur – like when party officials attend Catholic baptisms to watch for coerced conversion – Catholics are having their rights taken away. "There will be subtle pressures on people who want to genuinely convert," Gracias said. "It takes it to a certain realm, which is so personal. It gets the state interfering with your conscience."
Monsignor Nereus Rodrigues, pastor of Mount St. Mary Church in Mumbai, alluded to the fact that evangelical churches in India are the reason for anti-conversion laws. He cautioned his Christian counterparts to watch their actions, so all faiths aren't hurt in the future. "We belong to the Catholic Church, so we are very careful about not pushing the conversion a little bit too much," Rodrigues said. "If it becomes that way, people suspect that people are not being convinced."
For Gracias, there is no mistaking that India belongs as much to Catholics and Christians as it does to the Hindu majority.
"The constitution of the country and the founding fathers of the country had it in mind to be a secular country, a free country," Gracias added. "And now you bring these laws, you're going against the very ethos of the country."
(Additional reporting from Mumbai and Delhi, India)