As Published in The Indian Express, (Delhi & North American Edition), March 30, 2007
NEW YORK–Laxmi Berwa was taunted mercilessly as a young boy in his village in Rajasthan, India, by kids in higher Hindu castes. Berwa was born into the lowest caste, known as the untouchables. "The other villagers said my touch would pollute them," he said.
Berwa left behind his country and his religion in 1980 for Brooklyn, New York, with only $28 to his name. Today, the Hindu who was forbidden to walk certain streets or draw water from certain wells is an American Buddhist oncologist.
Berwa is one of thousands of former untouchables who have rejected Hinduism and its ties to the caste system in favor of Buddhism and its emphasis on equality. A growing number of these former lower-caste Hindus are encouraging others to convert to Buddhism as a way to end their brutal subjugation in India. North America has given untouchables the freedom to speak out and the opportunity to raise themselves up. And they are using their voices to alert the world to what they regard as the dark side of Hinduism. In the West, Hinduism is seen largely as a peace-loving religion, often associated with John Lennon, vegetarianism and sitar music. But newly empowered former untouchables decry practices like making lower-caste Indians perform degrading work, such as clearing human waste from latrines, and having to renounce ownership of land claimed by higher-caste Hindus. Today these Buddhist converts are uniting, protesting, and raising money for the dozens of organizations that have cropped up in North America to support Buddhist missions in India.
There are more than 10 million Indian Buddhists and the number is rising, said Yogesh Varhade, 65, who was born to untouchable cotton-mill workers in India and is today a mechanical engineer in Kingston, Pa. Nobody knows the exact number of former untouchables who have immigrated to North America, but community members say their ranks are swelling as established immigrants raise money to help friends and families join them abroad.
Before the 1960s, untouchables in the U.S. were extremely rare, according to Owen Lynch, author of Politics of Untouchability, Social Mobility, and Social Change and professor emeritus of anthropology at New York University. But their numbers have grown steadily, "and they are showing the world that they can succeed when given equal opportunities," said Lynch.
Buddhism's stress on equality is one reason why scores of former untouchables have embraced the faith. "To look down on people in Buddhism is a sinful action," explained Kurunegoda Piyetissa, a monk who helps run the New York Buddhist Temple in Queens.
While untouchables in India are often forced into silence, they're increasingly speaking out once they arrive in North America. "The Hindus want to save the caste system by keeping us ignorant and half-starving," said Varhade. "India says it's a super power, but we have a sick society," he said. "They are killing, raping and lynching fellow Indians with no shame."
More than 165 million untouchables in India are condemned to a lifetime of abuse simply because of their caste, according to Human Rights Watch. Former untouchables who have immigrated to North America advocate for fair land distribution and elimination of caste inequality in their homeland.
Buddhist human rights activists like Varhade are inspired by former untouchable and fellow Buddhist Dr. B. R. Ambedkar, who helped draft the Indian constitution in 1947. "Ambedkar gave them hope for a better future," said Lynch, one of the leading experts on untouchables in India. Ambedkar is also credited for sparking the Buddhist revival movement in India's untouchable community, according to Robert Thurman, professor of Indo-Tibetan Buddhist Studies at Columbia University.
Spreading Ambedkar's message and the Buddhist faith is a higher calling, according to many former untouchables. "We were slaves for 2,000 years because of this concept of caste that Hindus said was from God," said Raju Kamble, a former untouchable who now lives in Calgary, Canada and works for the Ambedkar International Mission. "This movement created an ideological base for people to get out of slavery."
Many former untouchables in North America are using their newly acquired privileges to help clothe, feed and educate the lower caste of India. Sanjay Kumar helped start the "Be Educated" movement, which raises money in North America to build libraries all over India with the exclusive mission to educate the poorest—usually untouchables—about their rights. "Some of us who started the project were from very poor, underprivileged communities and have struggled to come up so we know the problems that exist," said Kumar. "I visited a couple of the villages and I can see that people still need to be uplifted."
These human rights activists have taken their struggle from the segregated streets of India to the world community. In the early 1970s, Berwa, the oncologist, and Shoba Singh, a Fulbright scholar and former untouchable, helped found the organization VISION: Volunteers in Service of India's Oppressed and Neglected. Its members have marched before the United Nations and have lobbied Congress to protest human rights violations. Many of them say their new faith has given them the strength to break the silence. "My Buddhist identity is something I can be proud of and use to lift myself up," said Berwa, who testified in 1983 at the United Nations on behalf of minority rights.
Many former untouchables, now Buddhists, say that fellow Indians in North America discriminate against them. "We took the oath of Buddhism, to get out of the rotten caste system," said Varhade, "but upper-caste Hindus don't recognize that we have converted because they don't want to lose their privilege. Even highly educated immigrants still believe they can be polluted by the touch of another human being."
Former untouchables who have immigrated to the United States proudly say they have shattered the myth of their inferiority that is tied to their caste identity. "America gave me opportunities and nobody asked me about my caste so I have succeeded as much as any other person—Buddhist, Muslim, or Hindu," Berwa said. Ram Babu Gautam, 56, whose parents were untouchable leather workers in Nagpur, India, said, "The higher-caste people hated me when I was young, but now they see that I am educated and their perception has changed a little." Gautam studied computer science at City University in New York and is now a recognized Hindi poet.
The success of former untouchables in North America has not changed the fact that their brethren—even after embracing Buddhism—are still viciously abused in India, according to Hidden Apartheid, a Human Rights Watch report released in February. The report concluded that untouchables continue to endure segregation in housing, schools, and access to public services. They are denied access to land, and are routinely abused at the hands of the police and upper-caste community members who enjoy the state's protection. Entrenched discrimination prevents untouchables from getting a quality education, proper healthcare, decent housing, good jobs and equal treatment in court.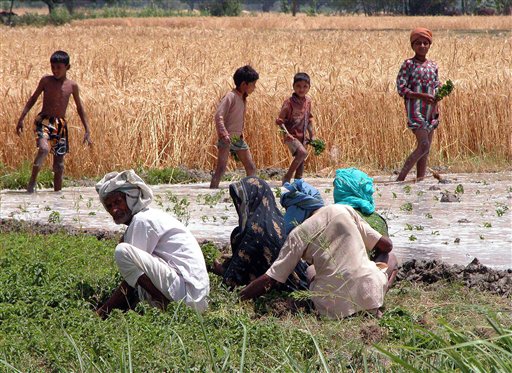 Many former untouchables are not only challenging the West's view of Hinduism as a peaceful religion but also Mahatma Gandhi as a patron saint. They say Gandhi betrayed their cause by naively believing higher-caste Hindus would embrace untouchables as equals. "Gandhi would say you shouldn't fight to abolish untouchability, because it's the high-caste Brahmin who has to change his mind," said Kamble. "But why would the Brahmin change his mentality? How long can the untouchables wait? It is not the Brahmin's mind that must change, it is my rights that I must have." Kamble said that Mahatmas have come and gone, but untouchables have remained. "Mahatmas have only raised the dust, but not the level. They speak words, but have not improved the situation for us."
The "untouchable" community's often harsh attitude toward the Mahatma may stem from a misunderstanding. "While Gandhi's attitudes toward caste evolved, from liberal to radical, his unequivocal opposition to untouchability in all of its forms remained throughout his entire life," said Dennis Dalton, Barnard College professor of political science and author of "Mahatma Gandhi: Nonviolent Power in Action." He added, "There was no more famous or staunch opponent to it than Gandhi, because he was known, unlike Ambedkar, throughout the nation and the world for this cause. Even Winston Churchill, who despised Gandhi's politics, praised him for his opposition to untouchability," Dalton said.
The differing interpretations of Gandhi's commitment to untouchables indicates a wider disagreement regarding Hinduism's responsibility for the persistence of caste inequality in India. "Without the caste system, Hinduism doesn't exist, which is why Ambedkar said we must reject Hinduism," insisted Kamble. "Hindus are not prepared to say everyone is equal and even in the West they haven't changed."
Dalton insists that Gandhi saw Hinduism as separate from the treatment of the lower caste. According to his own writings and speeches, Gandhi believed "untouchability is not a sanction of religion, it is a device of Satan," said Dalton.
Whether Hinduism is the root of the widespread discrimination and subjugation of untouchables, Indian-American Buddhists say they are increasingly convincing lower-caste Indian youth to leave Hindu deities behind for the sanctuary of Buddhist temples. "The younger generation is getting very interested in Buddhism, but it will take more time—untouchables have to continue to fight for their rights," said Gautam.
===
Click here to read an excerpt from the story in The Indian Express.