In the Shadow of Ave Maria
By Nik Steinberg
IMMOKALEE, Florida — A few hours after leading Mass, Father Hector Rubin opens the door of his one-story home to a Mexican woman and her nine year-old daughter. "When are you leaving?" he asks in Spanish, ushering them in. "Tonight," the mother says.
They sit together on a pale blue sofa as Father Hector runs down a list of questions. Have they mapped out the route? Do they know how to avoid the immigration patrols? As he dispenses advice, he walks to a bookshelf and takes two rolls of quarters from a bowl, which he hands to the mother. "You'll need these to pay the tolls," he tells her.
It's a ritual that Father Hector, the 70 year-old priest at Our Lady of Guadalupe Church, knows well. The woman and her daughter, like most members of his parish, are undocumented migrants. Within hours they will set off on a long journey North to visit relatives and, if they are lucky, find work. "May you go with God," he says, waving to them from the doorway.
This summer, as immigrants head up the East Coast following farm work, scores of families will make a journey in the opposite direction. Like the farmworkers, they too are Catholic, but most are white and affluent. Their destination is a new community just down the road from Immokalee called Ave Maria Town, whose first homes are being completed this month.
The town is an outgrowth of Ave Maria University, created in 2002 by Tom Monaghan, the multimillionaire founder of Domino's Pizza and conservative Catholic philanthropist. Monaghan started Ave Maria to fill what he saw as the lack of a traditional Catholic institution of higher education in the United States, and in August he will move the campus from Naples, Florida to a 5,000-acre plot of land five miles from Father Hector's parish.
The university is part of an ambitious new development of 11,000 homes, 3 golf courses and its own water park – all oriented around a towering stone and steel church that will seat more than a thousand worshippers. Ave Maria's Spanish-style villas and neatly manicured lawns stand in stark contrast to neighboring Immokalee, where rundown trailer parks are interspersed with laundromats and convenience stores.
But the construction of Ave Maria, along with the influx of people, ideas and wealth that comes with it, is a source of growing concern and apprehension for the residents of Immokalee, many of whom wonder how their new Catholic neighbors will change their way of life.
"It's difficult to understand how this displacement could happen. The Catholic faith doesn't teach you to believe, 'I'm rich, so I can displace these other poor people.'"
The land from which Ave Maria rises, like much of the countryside around Immokalee, was until recently occupied by tomato and citrus farms. The warm, humid climate in southwestern Florida is uniquely suited for the cultivation of fruit, especially in winter, when the region produces more than 90 percent of tomatoes consumed in the United States.
The tomatoes are harvested by undocumented immigrants, who come mostly from Mexico and Guatemala to earn 45 cents for every 32 pound bucket picked. Immokalee's population doubles from 25,000 to 50,000 during the peak season from November to April. To save money the pickers live as many as 14 people to a trailer, paying $200 a month for a small section of the floor and a shared stove.
Pascual Bautista is one of these laborers. He came to Immokalee from Veracruz, Mexico, in 2003 in search of better work to support his family. "When I arrived, I didn't know what to do," Bautista says, "I felt strange because I didn't have anyone here." Then he was invited to a Mass at Our Lady of Guadalupe Church.
"They talked about the way one suffers here, and how through the word of God one can reflect on his situation," Bautista says. "It's like they say: when you are alone or sad, you can run to Him."
Father Hector estimates that more than 70 percent of his parishioners are laborers who enter the country illegally like Bautista, and three of the church's five weekend Masses are in Spanish. Inside the church, paintings juxtapose scenes from the life of Jesus with the everyday hardships of farmworkers. One mural depicts a migrant crossing the border while Jesus's body is taken down from the cross.
According to Father Hector, the church has a duty to support migrants as they adapt to unfamiliar surroundings and brutal working conditions. "We try to attend to their needs in the broadest sense of the word, so that they don't lose their values in search of a better future. Our vision is a holistic one – not only of the religious needs of immigrants, but all of their needs – educational, social and material."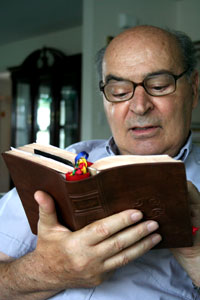 Father Hector contrasts this vision with the orthodoxy of Ave Maria, where he says, "they reject any social or theological change in the traditional practice of the Catholic Church." When Monaghan announced plans two years ago to move Ave Maria close to Immokalee, Father Hector says, "there was a reaction on the part of many Catholics open to human values, who feared that the university was trying to stop whatever inroads the church was making to new immigrants."
That reaction was at least partly rooted in comments that Monaghan made to a Catholic-men's conference in 2004, when he said of Ave Maria Town: "We will be able to control what goes on there. You won't be able to buy a Playboy or Hustler magazine … If you go to the drugstore and you want to buy the pill or the condoms or contraception, you won't be able to get that in Ave Maria Town." Those comments set off a firestorm of criticism and were quickly retracted by Monaghan, but the ultra-conservative reputation has been hard for Ave Maria to shake.
Even more controversial among Catholics is Monaghan's opposition to the sweeping liberal reforms of the Second Vatican Council, convened from 1962 to 1965, when the Church responded to its growth in the developing world by acknowledging the need to address the everyday struggles of the poor. The Council relaxed some of the Church's more rigid practices, such as allowing priests to celebrate Mass in native languages instead of Latin, and face the congregation rather than the altar.
While the ministry at the Guadalupe Church embraces the broader social role advocated by the Second Vatican Council, offering services from legal aid to daily meals, Ave Maria's leaders see some of its reforms as a dangerous dilution of the faith. Whereas Father Hector celebrates Mass in Spanish facing the people, his counterpart at Ave Maria faces the altar and speaks in Latin.
Lucas Benitez, co-founder of the Coalition of Immokalee Workers, a group that fights for better wages and working conditions for farmworkers, says the support of the Guadalupe Church and the greater diocese has been instrumental to the movement's success. "Today we count on a broad network of religious allies – and the Catholic Church was the original source of all these connections."
But Benitez fears that the development of Ave Maria will undo the past efforts of Catholic supporters – destroying the vibrant community that migrants have built in Immokalee. He says the founders of Ave Maria Town want to "change the face" of the Immokalee to conform to its wealthy neighbor, replacing farms with gated communities. "They aren't talking about improving the town or creating more employment," he says. "They are talking about getting rid of the workers who have lived here for decades."
Benitez says the impact is already being felt through an aggressive campaign by the Collier County authorities to shut down trailers where the farmworkers live. In the last year and a half alone, 226 trailers have been condemned.
Nancy Freeze, the Immokalee director of the Health Department, says the trailers are closed out of concern for worker safety. "We want and need quality migrant worker housing," says Freeze, "but if there's a place that's not up to code, then we close it."
Francisca Cortez, a former picker who works with Benitez at the Coalition of Immokalee Workers, acknowledges that the living conditions in the trailers are far from ideal. But she says that demolishing them is intended to drive migrants out of Immokalee, forcing them to live on the plantations where they work. According to Cortez, this is where the most egregious abuses against workers are committed, including five modern-day slavery rings that the Coalition has helped uncover since 1997. In the largest case, a federal court convicted three agricultural employers of enslaving 700 workers in Florida's citrus groves.
"It's difficult to understand how this displacement could happen," says Cortez. "The Catholic faith doesn't teach you to believe, 'I'm rich, so I can displace these other poor people.'"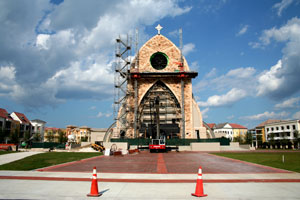 Not everyone in Immokalee sees Ave Maria's arrival as a threat. Juan Barrera, a resident and active member of the Guadalupe Church, believes that having a more traditional Catholic community nearby will strengthen Immokalee's Christian values. He has enrolled his 10 year-old son in Ave Maria's private K-12 school, scheduled to open in September along with the university. "I'm pretty sure that prayers and the pledge of allegiance are not going to be taken out of there, or anything else they're taking out of the public schools," Barrera says. "That's important – you take that away from the kids and what's next?"
Born in Texas to illegal immigrants, Barrera says he spent his childhood "living the migrant life," spending the summers up North and the rest of the year in Immokalee while his mother worked the farm circuit. "When I grew up," Barrera says, "there was no community – just blocks and streets." Even with all the moving around, his mother managed to keep him in school, and he went on to become the first in his family to go to college.
Barrera, an assistant construction manager at Ave Maria, sees Immokalee's new neighbor as a model for building a stronger community. "I think it's great that the folks from Ave Maria are introducing the concept of community to us," he says. He hopes to move his family to Ave Maria Town within a few years.
But most of the immigrants in Immokalee, who come to the United States to support families back home, are more concerned with finding work than with strengthening Christian values. And in this respect, says Adan Labra, the Immokalee Coordinator for the Florida Farmworker Association, they have been disappointed by Ave Maria. "Before the project started," Labra says, "it was said that it was going to bring a lot of work for the community. But it's not like that."
Labra says most of the contractors working on Ave Maria brought their own labor crews from other parts of the state, and estimates that less than a few dozen men from Immokalee are working on the project, out of as many as 1500 to 2000 workers on site every day.
One of the few undocumented workers from Immokalee working at Ave Maria, an illegal migrant from Mexico who asked to remain anonymous out of concern for his job, has spent the past several months installing electrical wiring in new homes. "There are a lot of houses being built," he says, "but they are not for people like us." He says he thinks the cheapest housing in Ave Maria will go for $30,000. In fact, they start at over $170,000.
But Blake Gable, the project manager for the Barron Collier Company, the main real estate developer in Ave Maria, says the construction is already benefiting Immokalee. "I can tell you that $400 million of private money being spent on a community five miles away from Immokalee has had a tremendous impact. You see it when you walk into the restaurants there – it's all people working on Ave Maria. When our people need to go to the hardware store or the gas station, they go to Immokalee."
A spokeswoman for Ave Maria Town, Dolly Roberts, adds that the new community "will create thousands of jobs" for Immokalee.
Asked if he thinks the arrival of Ave Maria will improve the situation of the migrants in Immokalee, Father Hector says, "I don't think all the money in the world could fix the human problems we have here. But if it is a work of God, it will go forward and be something positive."
In the meantime, Father Hector continues to tend to the everyday needs of his parishioners, like the young couple who knocks on his door late one night. The woman cradles a sleeping baby in her arms, wrapped in a soft pink blanket.
"Our daughter is sick," the man says in soft-spoken Spanish, "and we were wondering if you would bless her." Moments pass as Father Hector strains to make out their faces in the darkness. "She hasn't been baptized yet," the woman adds nervously.
"Come in," Father Hector says, inviting them in from the night.