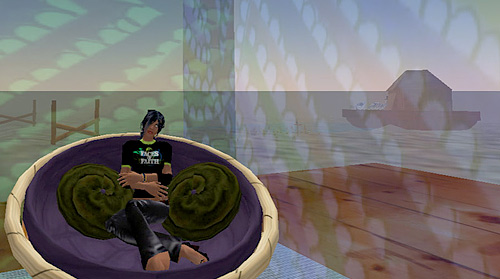 A police scanner, notepad, pen, voice recorder you could barely use and a bucket for a car with a stash of semi-formal clothes in the trunk – that was the old-style reporter covering a beat.
But when the virtual world of Second Life opened in 2003, cars were replaced by teleporting, the police scanner by green dots on a map, talk became type, and new clothes were a click away. The reporter, like all the new strange souls here, became an avatar, a user's representation of him or herself, which depending on the skin, hair, face, yes, even species, of the avatar determined the user's level of sophistication.
"With SL you get this sense of how you would like to see yourself. Technology was meeting culture and lifestyle," said Glenn Chapman, San Francisco Agence France-Presse bureau chief and technology reporter covering Second Life since 2006. "It wasn't just technology and pixels on a screen anymore, it was a form for people to create a sense of community and presence."
In Second Life, reality became a complicated set of scripts, textures, objects and inventory items experienced in real time. Rules were a little looser and faux presence for some, eventually became real. For journalists it was either fleeting trend or soon to fail experiment; either way the really curious got closer, the rest laughed if off as a video game.
"It obviously represented a new internet form in which people were communicating, interacting and engaging on a creative new level," - Glenn Chapman
"It obviously represented a new internet form in which people were communicating, interacting and engaging on a creative new level," said Chapman. Since then he has covered in-world land dispute lawsuits, virtual terrorists, and the recent ban on gambling.
Peter Gray, spokesperson for Linden Lab, the San Francisco-based makers of Second Life, said he has noticed an increase in in-world reporters, some of them also real world reporters. These include reporters like Wagner James Au, who writes New World Notes and also works for GigaOM or Adam Pasick who started reporting virtually as a full-time reporter from Reuters' in-world bureau in October 2006. Other reporters focus just on in-world events for in-world publications, such as the AvaStar, and are more interested in how the local news affects its Residents.
"That is where it gets interesting," said former investigative reporter Rita J. King, who goes by Eureka Dejavu in-world. "When reporters write and treat the avatars as a person's identity. The challenge journalists don't face in Second Life is that in Real Life you have to provide verification of who people are." King, who worked for seven years as a reporter and wrote a book about disaster profiteering on the American Gulf Coast, now runs her own business called Dancing Ink Productions, designing and consulting clients like IBM and other Fortune 500 corporations who want to do business in Second Life. Her work now focuses on "humanizing corporations," but she does not see that as a betrayal of journalistic principles. On the contrary.
"As an investigative reporter you work like an animal. After I finished the report on New Orleans, it was covered and nothing changed. It didn't increase the flow of resources into the community," King said. "The smart way to do it is to direct human resources to where it makes a difference and it works more with my goals as an investigative reporter."
For King, Second Life is a journalist's ultimate victory.
"Journalists don't get it, they don't understand that it's the infancy of an emerging paradigm. They are reporting on all the experiments in Second Life like it's a failure," King said.
She never expected to feel this way when someone introduced her to Second Life in November of last year. She had never even read a science fiction book; definitely not a gamer.
Since she's been in Second Life her Real Life has changed dramatically. Sometimes she walks around in Real Life now and certain people remind her of avatars.
"I went to see Bob Dylan after being in Second Life for the first time and I'll be damned if Bob Dylan isn't an avatar."
It's sweat, hard work and discipline.
Linden's Peter Gray points out in an email that "Second Life has a learning curve, and it's not always easy for a journalist to explore – particularly on deadline." Their company often gives tours, trains people to take snapshots and cautions journalists to be prepared for things like downtime for updates on Wednesdays.
Right. There's down times, bad grid days, everybody is on at the same time days, slow days, buggy days, can't teleport people days, walking is hard days, flying with groups is harder days, "griefers" abound days. A griefer, one soon learns through one form of harassment or another, are people who go around in Second Life attacking or harassing other avatars. These attacks include things like caging, shooting, any behavior that is unexpected and a nuisance, and could even take the form of bouncing balls filling your screen and crashing your computer.
But for some reason most Residents in Second Life are tolerant of it all, more than your average short-attention span reporter, like myself trying to sludge through it and just get the story and go.
"It's like traffic or being at the grocery store where you have to wait in a long line," said Kate Crisp who goes by Vivienne Cassavetes, and has organized in-world meditation groups since January 2007. For Crisp the wait was just part of the whole experience of eventually connecting with the community. "I've noticed with people here that they quickly go into a profound and deep way of engaging with you. That I found to be on one of the best parts of it," she said.
Things are slow, very slow in Second Life is the common criticism by reporters. Sometimes the program is impenetrable and totally frustrating and most, especially those on daily deadlines, don't have time for it.
"How often is what's going in Second Life of real interest to the majority of Real Life? How much time can you justify saying what these people are up to and why?" These are the bigger questions for Chapman who sometimes turns over six stories a day for the wire. "For my purpose you have to go in and be more strategic about it. You go in when they do their first presidential debate, when a Real World problem presents itself in an SL form and to find those points where it affects everybody."
My own efforts at covering religion in Second Life since January 2007 proved to me that not only is it a particularly steep learning curve once you are in Second Life, but it is also not easy straddling Real Life and Second Life journalistic ethics and distance.
In Real Life I had a two month deadline to learn to function in this new world; meet the religious communities, gain the trust of the main players, understand the issues and then get them to talk about the issues on a panel where they would invite all their friends and their friends' friends. It was the basic law of high school parties, if you invite all the popular kids to your party, eventually your party will be popular and everyone will show up.
Oh and music always helps, so we got a DJ.
It is not just a case of build it and they will come, but build and invite the right people and then they will come and talk and watch, read, and engage with your stories. Even in Second Life, all news was local news; we had to make it relevant to their in-world village. We did not have the time to hover on someone's doorstep waiting for him or her to pick us up like this morning SL news and impart our knowledge. Even in virtual worlds, journalists were worried about readership.
"In virtual spaces the new form of elitism is creativity," King said. It was true. We had to get creative, make the buzz and make it spread.
That was PR work and I was no PR person. But the new journalist, I soon learned, is also an online social networker.
People like gods.
There were times when I felt as if my hands -- typing away furiously on chats and making my avatar move and teleport from church to synagogue to Buddhist temple or Hare Krishna center – were the only bridge between my two worlds. Everywhere I went there were others who had betters skins and hair than mine. I bumped into people and sometimes got naked in front of them trying to change clothes. But avatars were forgiving and they were curious about this experiment. What journalism, tents, panel and music?
The project, developed at the News 21 site at the University of California Graduate School of Journalism, Berkeley was part of the fellowship's 2007 program focusing on "God, Sex and Family." As our stories unfolded we wanted them streamed as video, audio, and print stories into different tents created to look and feel like a church revival. Like an awakening of sorts in Second Life, we thought we were so clever. In-world avatars could speak to reporters, be interviewed or ask questions about the stories. The final event would be a panel discussion held in-world and broadcast live through SLCN, the Second Life Cable Network. Live broadcasting was the technology that was new and was supposed to be bridging the fissure that divided SL and RL users.
There was a certain creative control we had in how our projects were presented, to a more sophisticated degree than say a newspaper. We were recreating an experience, the feeling of say reporting on polygamy in the Muslim community, or the building of Ave Maria, a Catholic utopia in the swamps of Florida, or the week spent with family members who were avid Christians. We had to remain respectful and sometimes things like which direction would avatars pray to in the Muslim tent completely escaped us. Then there was the deadly "you're talking at us and not with us" conversation with our panelists. Here we were being so innovative and creative that we had replicated the same model of our print predecessors, we are the keepers of the truth. But the community wanted to take part in their news, in this endeavor to be represented. Thus was born the panelists' tent that had objects representing Islam, Judaism, Hare Krishnas, Unitarians, complete with butterflies, sitting cushions and a fountain. I stepped back and, like a true in-world journalist, filmed it and posted it on YouTube.
The future is the present projected.
Journalists need to go where the stories are being told. Experienced Second Lifers advice to reporters: think of SL as a foreign country.
"Tell [them] to think of it as reporting on religion in Brazil," said one panelist. "Most, if not all, of the reporting will be done remotely, and if [you] need to travel to another country, there are, in fact, hurdles. [You] will need a translator." Many times arrangements are made for fixers or someone to meet new reporters in-world to guide them along. But trying to immerse yourself in the reporting aspect is hard when you don't really know if you can walk, one panelist joked.
Parallels have also been drawn of Second Life to what the Internet used to be when it was first introduced. Clunky, awkward, esoteric and belonging to people with no lives, just the one they had to artificially create. Nerds, geeks, gamers. I'm not one of them; I don't play games, were common responses to reporting in Second Life.
Second Life is like a city unto itself -- composed of extremely creative, savvy, global citizens. To get "it" you have to move there and put in your time being part of the community, which means looking like a clumsy fool on Orientation Island.
"Journalists need to have that same inquisitive mindset of we're all experimenting right now," King said. "There needs to evolve a new sort of journalist which is in that same vein of investigative journalism. I'm hoping that the same creative spirit people apply to their avatars will also be applied to journalism."
A playful journalist, I like it.
Links:
Second Life vocabulary:
http://puritansguidetosecondlife.blogspot.com/2007/03/must-know-second-life-vocabulary.html
Griefers:
http://www.secondlifeinsider.com/2006/11/03/who-are-the-griefers/