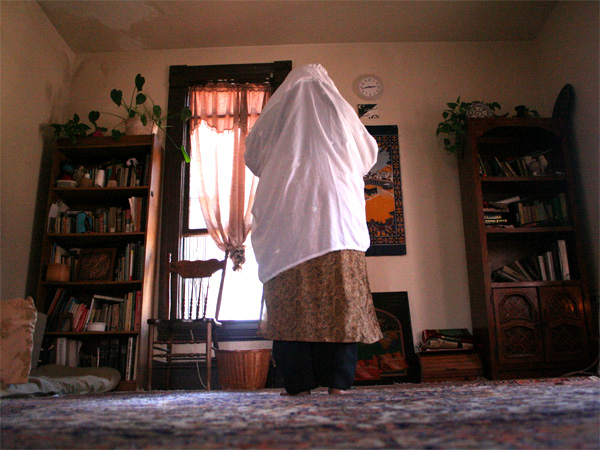 Clad in his Sunday sweatpants a long blue Pakistani-style shirt, Ali, a 59-year old African American Muslim elder, popped in a DVD of "Big Love" - the HBO series about Mormon polygamists in Utah.
"Dude's not handling this well at all," he says as he watches Bill Paxton play an overburdened husband with three wives. "You know, I feel sorry for dude."
Ali - who prefers to only use his first name - faces the challenges of polygamy every day. For 15 years, he's been religiously married to two women, and for the past decade has lived with them under one roof in a working-class neighborhood of San Diego. Tuesday through Thursday he sleeps with his wife Hasanah on the first floor, then Saturday through Monday it's upstairs with his second wife Asiila. That leaves his office, cluttered with photocopies of Qur'anic sayings and dusty pictures of relatives in hijab, as his only private room in the house.
"We get our time off, we got a sisterhood thing going on," says Asiila, 50, Ali's wife of 15 years. She crosses her ankles underneath her overhead khimar, a black dress that covers her from head to toe. "To me, polygyny (polygamy) is for the woman. It's really for the woman."
This San Diego family's life is part of a very small, but increasingly visible phenomenon of African American Muslims practicing polygamy, according to Debra Mubashir Majeed, associate professor and chair of philosophy and religious studies at Beloit College in Wisconsin. For her research, she surveyed more than 400 Black Muslims and interviewed more than 15 polygamists.
"Most African American women who are into polygyny do so by choice," says Majeed, adding that their reasons range from their interpretation of the Qur'an, to desire for independence, to needing a father for their children.
She says a shortage of marriagable Black Muslim men is one reason polygamy is embraced.
"With the high number of African American men in prison, on drugs, out of work, or unavailable in some other way...the options are limited," she said.
Census data from July 2006 shows that there are almost a half a million less African American males than females between the ages of 15 and 44. When Black male incarceration rates, drug addition and unemployment are factored in, there are only 5 eligible black men for every 10 black women, according to Larry Davis, Director of the University of Pittsburg's Center on Race and Social Problems.
"Black America has the greatest gender imbalance of any group since the beginning of the census," says Davis.
African Americans are not the only Muslims who practice polygamy. Plural marriages exist in majority Muslim populations of Africa and the Persian Gulf states, and immigrants continue the practice in the United States. In May 2007, The Times of London reported that as many as 1,000 Muslim men are living with multiple wives in the United Kingdom. There is no projected number of Islamic polygamous unions in the United States, but Majeed says the amount of Muslim polygamists in the US may be fewer than one percent of the population.
"When you love someone for the sake of Allah, you're not dependent on them."
--Miz Azeez
In a spring 2007 survey conducted by the Muslim magazine Azizah, 150 Muslims - mostly women of all lines of thought and ethnic backgrounds - were quizzed about their experiences with polygamy. Editor-in-Chief Tayyibah Taylor said perspectives ranged from "it was the cat's meow" to claims it was "tantamount to abuse." The majority said success hinged on the seeking of spiritual enhancement by all involved, and the male's ability to "handle" the situation. Taylor said polygamy among non-immigrant Muslims may be more visible because they are more outspoken about it.
Mohamed El Sheikh, executive director of the Islamic Jurisprudential Council of North America, said that many American converts to Islam, of all races and ethnicities, are already accustomed to having multiple sexual partners.
"After accepting Islam, some have continued this practice by giving the status of spouse to their sexual partners using the Islamic law," El Sheikh observed.
Most Muslims do not seek legal recognition or benefits in their plural unions, according to Majeed. She says that for many, "the religious importance will supersede the legal issue." When polygamous Muslims do have legal unions, it typically involves the first wife.
The daily practice of Islamic polygamy varies greatly. Most often, according to Majeed, the husband will take on two wives who live separately. The second wife may forego financial support and a dowry. Other times, two wives may live together in one house and a third wife may come in and out of the situation.
Shi'ite Muslims even have temporary marriage, or mutah, where a man may enter into a sexual union with more than one woman. The arrangement need not involve an imam and could last anywhere from one weekend to several years.
There is no consensus among Muslims about how polygamy should be carried out, although the Qur'an tells Muslim men they may marry up to four wives only if he treats them equally and fairly. One passage implies that additional wives must be widows or orphans. Some religious scholars say the aya were written during wartime, and should be practiced only when there is a shortage of men.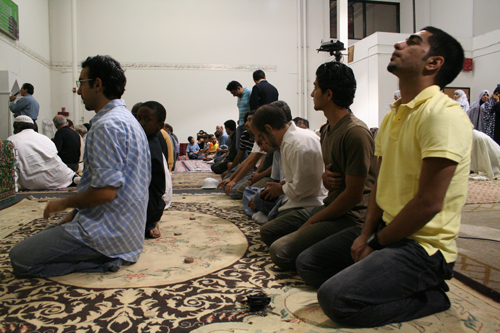 Thirty-eight-year-old Mr. Azeez of upstate New York says the current shortage of eligible African American men justifies his plural Islamic marriage. The former Olympic wrestler converted to Islam 18 years ago and works as a technician.
"You have all these women out there," he said, "and Allah has given a remedy to a situation."
Azeez splits his week between two wives, who live half an hour away from each other. He fully supports his first wife, and is a father to his second wife's son from another relationship. He says he didn't consider taking on more than one wife, until he got a raise and the second wife agreed to help financially support herself.
"If it's for you," he said, "then Allah will make it easy for you."
His 22-year-old first wife, who refers to herself as Miz Azeez, recently published diary-style writings about her marriage in "Polygynous Blessings: Musings of a Muslim Wife." Her love for Allah, she says, frees her from dependence on her husband.
"With passionate love, and the whole concept of love in American culture...They put [their husband] up to a status like Allah. Like this is their life source, like if that person leaves, they're dead - that's it, life can't go on. I don't have that type of love for my husband."
Miz Azeez says sharing her husband brings her closer to him and to God. After a year and a half of living in polygamy, she says she would never live any other way.
It wasn't as easy for one anonymous 53-year-old American Muslim woman in the Washington, D.C. area to share her husband. After they had five children together, he took on other women, a total of four on separate occasions. When the international entrepreneur married a woman in a Muslim country, the first wife found herself financially insecure and alone for months at a time.
"I was just not prepared to include another family in that struggle," she said, about her decision to divorce her husband after 10 years of polygamy. "I felt forced to rise to the occasion, and I felt I as the current wife had some rights."
Women have few protections when entering an Islamic polygamous relationship. The Qu'ran says the husband must care for his wives equally, but there is no universal Islamic law or accountability mechanism to define or enforce that. Under some lines of thought, the husband need not notify the first wife that he is taking another, and he may even withhold a divorce.
"If it's for you, then Allah will make it easy for you."

--Mr. Azeez
For second wives not married under U.S. law, this can mean difficulty claiming financial support and legitimacy for their children, according to Kecia Ali, author of "Sexual Ethics and Islam" and assistant professor of Religion at Boston University.
"I don't think polygamy should be romanticized as a solution to man shortage problems," she said. "It is dangerous for women, in many contexts."
The lack of state regulation of polygamy, especially in times of marital disputes, concerns El Sheikh of the Islamic Jurisprudential Council of North America. "The spouse and her children may not be entitled to many legal rights. This is against the principle of equality and thus polygamy is not practical in the United States."
He adds that even the Qur'an states that men will never be able to do justice between wives "even if it is [their] ardent desire."
Ali's two wives in San Diego would disagree; they say their husband is a fair and just man, and they've figured out a family model that works for them.
Hasanah works full-time as a social worker and savors her alone time. Asiila takes care of her and Ali's 10-year -old son, and "plays hostess." Ali is the head of the household, spending most of his time writing about Islam and providing spiritual counseling.
"I helped him ship out and go get the sister!" laughs Hasanah, recounting how, 15 years ago, she wrote Asiila a nine-page letter asking her to join the family.
Nearby, Asiila pretends to complain. "You gave me 6 months with Ali when I first got here, but you won't take them back."
Ali, realizing he's being picked on, responds with a joke that he is going to take on another wife.
"You have the computer," says Asiila. "That's wife number three."