About This Project
Stories about religion are too often framed around conflict and controversy, culture wars and holy wars. We want to tell another story – the lived experience of people's faith.
We are a team of journalists from the Graduate School of Journalism at the University of California, Berkeley exploring "God, Sex and Family." That's where choices about marriage, dating, the building of community, family and faith play out in private life.
Special thanks to Milan Andric, Scot Hacker, Roy Baryl, Kean Sakata, Milt Wallace, Paul Grabowicz, Marsha Parker, Neil Henry, Gayle Allerson, Mary Ann Glazar, Helen Ettlinger
Biographies of News21 Editors
Chakarova received her BFA in photography from the San Francisco Art Institute. She completed her graduate thesis in the Visual Studies Department at UC Berkeley. She has had numerous solo exhibitions of her documentary projects on Africa and the Caribbean. She is the recipient of the 2003 Dorothea Lange Fellowship for outstanding work in documentary photography and the 2005 Magnum Photos Inge Morath Award for her work on sex trafficking in Eastern Europe.

Don Lattin is one of the nation's leading journalists covering alternative and mainstream religious movements and figures in America. He is the author of the upcoming book "Jesus Freaks - A True Story of Murder and Madness on the Evangelical Edge" (HarperOne 2007). He also wrote "Following Our Bliss - How the Spiritual Ideals of the Sixties Shape Our Lives Today" (HarperSanFrancisco 2003) and is the co-author (with Richard Cimino) of "Shopping for Faith - American Religion in the New Millennium" (Jossey Bass 1998).
His work has appeared in dozens of U.S. magazines and newspapers, including the San Francisco Chronicle, where Don covered the religion beat for nearly two decades. He has also worked as a consultant and commentator for Dateline NBC; PrimeTime Live and Good Morning America on ABC Television; American Morning on CNN and Religion and Ethics News Weekly on PBS.
Don has taught religion writing at the Graduate School of Journalism at the University of California at Berkeley, where he holds a degree in sociology. During the summer of 2007, Don is working as the managing editor for "News21" at UC Berkeley.

Jeremy Rue is a recent graduate of the UC Berkeley Graduate School of Journalism, where he studied advanced multimedia storytelling, photojournalism and print journalism. He previously worked as a multimedia journalist for the Oakland Tribune, where he produced a number of Web-based projects related to the rise of Oakland homicides in 2006. Before enrolling at UC Berkeley, Rue previously had worked as a photojournalist for a number of publications, including The Fresno Bee, The Modesto Bee and the Duluth News-Tribune in Minnesota. He then went on to become a reporter for the Selma (Calif.) Enterprise, where he covered city government, courts and crime. Rue is also the recipient of the 2007 Dorothea Lange Fellowship for his photo documentary work on migrant farm workers in the California Central Valley . He is an expert with Adobe Flash/ActionScript, HTML/CSS, PHP and a variety of other web scripting languages.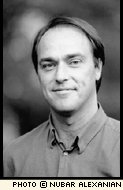 Sandy Tolan is a teacher and radio documentary producer. He is the author of two books: Me and Hank: A Boy and His Hero, Twenty-Five Years Later (Free Press, 2000), about the intersection between race, sports, and American heroes; and The Lemon Tree: An Arab, A Jew, and the Heart of the Middle East (Bloomsbury, 2006). The Washington Post called the book "extraordinary" and selected it among their top nonfiction titles for 2006; the Christian Science Monitor wrote, "no novel could be more compelling" and proclaimed, "It will be one of the best nonfiction books you will read this year."
Sandy has reported from more than 30 countries, especially in the Middle East, Latin America, the Balkans, and Eastern Europe. As co-founder of Homelands Productions, he has produced hundreds of documentaries and features for public radio. He has written for more than 40 newspapers and magazines. Since 2002, Sandy has taught international reporting and radio at the Graduate School of Journalism at the University of California-Berkeley. In 2007, his students won the George Polk Award for their public radio series on the early signs of climate change around the world – the first time students have been honored in the 58-year history of the awards.