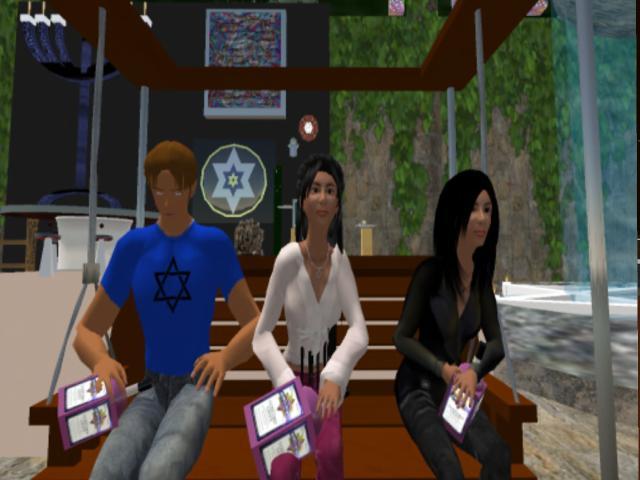 It is one in the morning in the virtual world of Second Life and Beth Odets is playing "It's a Small World" on her violin to a group of hip-looking virtual beings, some with horns on their heads or wings sprouting from their backs, swinging their fully-clothed legs into a hot tub. She is taking requests, so I call out "Purple Haze!" She lets out a raspy laugh that has a faint Janis Joplin quality to it. From her corner of the world in Texas, Odets plays into her computer, as if we were all in the same room. There is a flurry of chats that ensues between songs, lots of on-line applause, more requests and a few jokes. In the middle of all this someone plummets from the sky straight into the center of the tub, stands waist high in water, looks around and disappears after a few minutes -- leaving a trail of little circling stars.
"Hi Yoni!" Odets says between songs, and moves on to "Fiddler on the Roof," and "Puff, the Magic
Dragon."
It was a regular weekday night at the Tragically Misunderstood Artists' Jewish Neighborhood which the 33-year-old social worker and musician gone full-time Second Life graphic artist had created as more of a Bohemian hangout spot. At the time she built the neighborhood there were only about 2,000 people in-world, or logged into Second Life, now there are more than 8 million registered users. Things back then were more about fantasy and role playing.
"I wasn't into that, I'm more into playing myself," said Odets, who in Real Life goes by Beth Brown and is the mother of two children who enjoy watching while temples, castles and soda machines emerge from Odet's hands. Brown has an uncanny resemblance to the Odet avatar, shoulder length dark brown hair, large brown eyes, and at 5'6" is short by Second Life standards. Her wardrobe includes flowers and stripes, loose jeans over Mary Janes or Doc Martins shoes to give her a little edge. She never wanted to be a Barbie doll in Second Life and being 7 feet tall didn't interest her in the slightest bit.
"Beth Odets is a part of me, but not all of me is her," Brown said. "She is me in another environment."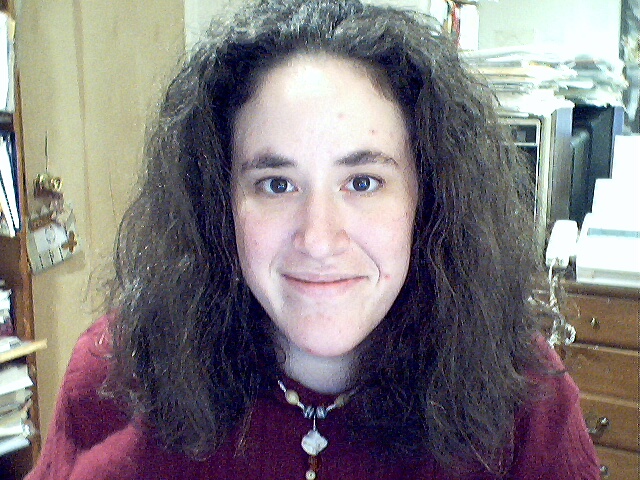 Some have misperceived her as a "hippie," but she is more a "bohemian chic," someone who focuses on the arts and dances to her own tune. She is not much into making political statements and mostly just wants to meet people and build things. The Tragically Misunderstood Artists group she created has helped her find community and so has her Judaism.
"I'm what they call a flaming Jew, I don't necessary go to temple on Saturday or every week. I don't necessarily eat kosher food. But being Jewish isn't just a religion. It's a whole heritage, a way of life and a set of values that go beyond being religious," Brown said.
Her first structure was Temple Beit Israel, one of the first synagogues opened in Second Life and it was made in a day.
"The synagogue was a Torah book, and it made sense that I would need an ark to put the Torah in. Three hours later the synagogue was there!"
From there the neighborhood grew to include a Meditation Station, store, Holy Hot Tub, a Jewish magazine, and a live music venue called The Ark, built right into the hull of something resembling Noah's biblical vessel. Most of the neighborhood, from the paintings hanging on the walls to the candles lit every Friday for Shabbat or the Manischewitz placed on the tables during Sabbath re-enactment are Odet's creation. She has even invented a Manischewitz dance for special occasions and had her children sing The Four Questions during Passover.
"Passover wouldn't be Passover without the kids singing The Four Questions. I've always gone by feeling, I recreate a feeling into a visual representation. Certain parts that someone always remembers," Brown said.
Before I even met her, I had accidentally walked into an Afikomen Treasure Hunt she had organized for Passover. Avatars wandered around in varied states of confusion looking for treasure. I was one of the ones who had missed Brown's in-world classes on how to use your camera during a treasure hunt.
Religious practice at the Second Life synagogue, she said, does not step over the rituals in real life. During Passover she did not have activities for the first two nights of Passover in Real Life and for the candle lighting on Fridays she schedules them up to two hours before the actual event.
"While we can recreate the feeling of certain kinds of events we can't actually substitute them for the real life experience." Most of the activities she helps to lead are meant to educational. It is one of the main reasons she considers herself more of community leader than a religions leader.
"We don't have a lot of religious activity, but we have discussions for everybody. In the same spirit people do expect me to be a spiritual leader and people do want to feel understood. I'm the closest thing the community has to a spiritual leader," Brown said.
One day while my avatar struggled to keep up with Brown's busy weekly schedule of Torah talks, candle lighting, weddings, Holy Hot Tub sessions, and tours I ran into a matronly-looking Liz Melville, who had "Jewish mother" hovering over her head as she stood beside Brown in the synagogue. "Everyone, meet my mom," said Brown and continued giving her a tour of the neighborhood to a new crowd of avatars.
"I'm the only person I've met whose parents just pop into Second Life," Brown said during a conference call with her mom. "I know the first surefire way to get your parents in there: build a synagogue."
"I told her dad you have to see what's going on in there," Melville said. "One of the things that I thought was wonderful was the various activities that really make you feel like you're part of the service." The synagogue is also important, Melville said, because it gives people an opportunity to have a sense of community with other people who understand the same feeling you get from those rituals.
In a picture taken during Passover, Brown sits on a swing between her father, wearing a tight blue T-shirt with the Star David stretched by his six-pack and biceps, and her mother who looks about the same age as Brown. All of them are holding Manischewitz bottles.
Her mom often comes to Brown's violin shows and the candlelight on Fridays and usually walks around telling people how great her daughter is.
"Since I'm in New York this is another way to relate and talk to her everyday," Melville said.
Most moving for Brown is having her mother come to the candle lighting ceremony.
"One of the things you do when you light candles is your mother lights them, but she's sitting next to her daughter while she does it. My mom didn't know how to copy and paste the blessing, so she wanted me to do it. I'm going to have to teach you, I told her."
That evening in Second Life, Brown lit the candles for her mother.