Meghan Berry | Jul 30, 2009 | Comments 12
By MEGHAN BERRY with additional reporting by Kai Carter and Alexandra Fenwick
Success Preparatory Academy is expected to open its doors in August with a team of 18 teachers and 224 kindergarten through the third graders. The new charter school's founders, Neloy Gangopadhyay and St. Claire Adriaan, searched for teachers nationwide, but made a point of recruiting at New Orleans' career fairs and universities to find teachers who matched the children's unique cultural experiences. But local applications fell short.
"It's been a challenge for us," said Gangopadhyay. "We did not find that many candidates that were coming across the pipeline. It was a hard sell."
Recruiting homegrown teachers has been a hard sell for universities, as well. Loyola University axed its education department in 2006, due to anemic enrollment. At nearby Xavier University, between just five and 10 students graduate from the education division each year. The University of New Orleans reports a dearth of applicants aiming to be education majors.
"We have not done a good job of finding and recruiting our most talented undergrads to major in education," said Dr. Andre Perry, the associate dean of U.N.O.'s College of Education and Human Development.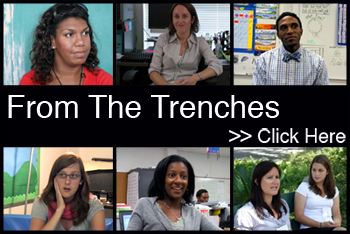 With such obstacles before them, Gangopadhyay and Adriaan, like many charter administrators, turned to Teach for America and other alternative fast-track teacher programs, such as the New Teacher Project's TeachNOLA Teaching Fellows, to fill their classrooms. These programs specialize in pumping recent college graduates into needy school districts after five weeks of training.
T.F.A., which already had more than a decade-long presence in Greater New Orleans, filled the void caused by Hurricane Katrina when approximately 4,000 teachers either fled or were let go by the State of Louisiana. The national organization has been increasing its game in the Big Easy ever since. T.F.A. doubled the size of its New Orleans corps for the 2008-2009 school year and will maintain the same count this fall.
Today, 80 percent of New Orleans schools in the Recovery School District, a state-run district that encompasses failing schools in New Orleans and Baton Rouge, and 45 percent of charter schools employ T.F.A. corps members. Eighty-five percent of Teach for America's national corps are recent college graduates. The organization expects one in three New Orleans students to have had contact with a T.F.A. corps member or alumnus by 2010.
"We did not find that many candidates that were coming across the pipeline."
— Neloy Gangopadhyay,
Success Preparatory Academy
And T.F.A. is only growing in popularity and prestige. This year, the organization wait-listed applicants for the first time in its history. About 35,000 candidates applied for 4,100 positions.
T.F.A. attracts candidates from top schools — every Ivy League college but Dartmouth was represented in last year's corps — and the group is equally renowned for its unbridled enthusiasm. Every member of the teaching corps must embrace the same belief: All students can achieve. Teach for America teachers agree to stay in the classroom for two years and to work toward certification.
Though reports vary, a Louisiana State University/Board of Regents study suggests that these fast-trackers outperform their traditionally-trained counterparts in the classroom.
Yet, T.F.A.'s plans to stay in New Orleans schools long-term concern some local higher-education leaders. "They saved the school system here, but we're not in crisis mode anymore," said Linda McKee, director of Tulane University's alternate teacher certification program.
Alternate paths into New Orleans' classrooms are alternatives no more — they are becoming the established route. More undergraduates are turning away from majoring in education, even as the city's colleges and universities are seeing increased enrollments in their teacher certification programs. Still, when these newly-certified teachers enter the job market, some are finding the pipeline to jobs clogged by teachers on the fast-track.
Prospects for Locally-Educated Teachers
In 2004, McKee worked to get Tulane's teacher certification program approved by the state in hopes of meeting the city's demand for teachers. Under the plan, Tulane undergraduate or postgraduate students who major in content subjects, such as history or math, complete a 180-hour classroom practicum and then apply to the state for certification. With 42 teachers completing the program this year — up from three in the original 2006 cohort — the program is small but growing. McKee has just hired a marketing director who will concentrate on promoting and advertising the program.
So far, Tulane's placement rate is as good as it gets — 100 percent — but McKee says it's a tougher job market for her graduates than it should be. "The city has been flooded with non-certified teachers," she said. "My completers are having a hard time finding jobs because of this."
Teach for America administrators say they believe their recruits are hired because they are the best qualified and are not "stealing" jobs from anyone. "I think it's important to distinguish between taking a job and being hired because it's the decision of a school leader," Emily Klein, T.F.A.'s Greater New Orleans director of district strategy, said. "And really everyone has the opportunity to get hired. They just have to prove it."
"I wish schools would turn away from T.F.A. All our colleges are struggling with enrollment."
— Dr. Rebecca Maloney,
Our Lady of Holy Cross College
McKee's program, helped by the prestigious Tulane name, has attracted students from 19 other states and three other countries. By contrast, Our Lady of Holy Cross College, located on the West Bank of the Mississippi River, is made up of a New Orleanian-only student body. The number of its education majors is declining, while its alternate-track certification program tripled in size between spring 2006 and fall 2008. The school certifies, on average, between 50 and 60 teachers per year.
"Our teachers generally get jobs, though this year it is getting more difficult," said Dr. Rebecca Maloney, chair of the undergraduate education department at Holy Cross. "I wish schools would turn away from T.F.A. All our colleges are struggling with enrollment."
Maloney's main beef is not with T.F.A., but with Louisiana's lackadaisical attitude toward building up its own college programs. "There was never a focus after the storm, 'Hey, we've got colleges in the city, how can we help them get more teachers out?'" she said. "The state would have been better served if it put money in building up undergrad programs."
Dr. Judith G. Miranti, director of the education division at Xavier, a historically black university where most students are Louisianans, agreed that competition for teaching jobs is steep. "I think if the [Louisiana] State Department increased its efforts to hire only highly-qualified, certified teachers, our students would have have a level playing field."
Some local aspiring teachers are finding it difficult to compete with the out-of-town candidates. LaToya Devezin, 25, grew up in the Ninth Ward and wants to teach in her hometown. She studied business and music at a college in Virginia. She took some education classes there, but didn't decide on teaching until she returned to New Orleans in 2006. Motivated by her own family — her grandparents are illiterate and some of her family members never finished high school — Devezin applied to the TeachNOLA Teaching Fellows. The program, similar in structure to T.F.A., rejected Devezin twice.
"What am I missing? I think it's because I'm from here. I hate to say it," said Devezin. "They're bringing people, fresh from out of state and shutting teachers here out." Devezin, who now holds a job in retail sales, is working toward her teaching certificate through the Southern University at New Orleans' alternate-certification program. "I'm going one of the longer routes," she said.
Making Teaching a Career
In the end, Success Academy's Gangopadhyay, a T.F.A. alumnus himself, and Adriaan have built a teaching staff with an average of five and a half years of experience. Under their team teaching plan, first-year teachers will work alongside veterans. "We would love to see more teachers stay 10, 15, 20 years. That's why we have a good mixture of veteran teachers, so these new teachers can look at them and say, 'This is something I want to do for the rest of my life'," Gangopadhyay said. "But at the same time, I'd rather have someone throw it down in the classroom for two years, close the achievement gap or work very hard at it, work diligently for two years, and then replace that person with someone who can do the same job."
"You can raise a family and have a decent lifestyle as an educator."
— Dr. Andre Perry,
University of New Orleans
T.F.A. retention rates are a point of pride for the organization. This year, 65 percent of its corps members in New Orleans have decided to stay in the classroom for a third year. Nationally, close to the same number commits to a career in the education field, whether as teachers, administrators or as policymakers. Klein says she doesn't have a problem with those who move into other careers, such as law and medicine, after teaching in New Orleans. "We're taking people who have the mindset that student achievement is possible for every kid," she said. "Their classroom experience is going to shape how they interact in whatever sector they're in and that's the only way things will end up changing."
It's not clear how long outside groups, such as T.F.A., can sustain the growing need for qualified teachers in places like New Orleans, but many share Gangopadhyay's hope that these new teachers will commit to a career in the city's classrooms.
"Look, you can earn $50,000 straight out of college," said Perry, who in addition to being a U.N.O. dean is also C.E.O. of a network of charter schools organized through the university and funded in part by Capital One bank. "You can become an ed leader making six figures. Not many professions can say that. You can raise a family and have a decent lifestyle as an educator."
Sean Gallagher, the founder and principal of Akili Academy, a charter school that opened last year with a staff of all T.F.A. and TeachNOLA corps members and alumni, said he has plans to put time into recruiting local teachers. "You can't just sustain schools on 'Let's find T.F.A. people,'" he said. "They're all great, and clearly I love them, but we need to find those teachers looking for this kind of school, but don't know it exists."
Filed Under: Featured • New Orleans in Depth
About the Author: Meghan Berry is a multimedia journalist and photographer from New Jersey. She has worked as a newspaper reporter and in communications at various educational institutions since earning a B.A. in English from Gettysburg College in 2003. Berry enjoys reporting on education, health and environmental issues. Her other interests include world travel and pug walking. She graduated from Columbia University's Graduate School of Journalism in 2009.
Comments (12)
I am having problem with the first link. It gives a 404 error?
BR

Good luck everybody! - I will come back again. Are you on facebook or twitter? Will like to follow you.
BR

Howdy, i read your blog occasionally and i own a similar one and i was just wondering if you get a lot of spam comments? If so how do you prevent it, any plugin or anything you can advise? I get so much lately it's driving me mad so any assistance is very much appreciated.
BR

Hey how are you. I found your blog through Google and I just wanted to say that I think your writing is simply stunning! Thanks again for providing this content for free.
BR

I am having problem with the first link. It gives a 404 error?
Thanks

This is a great site.  Good clean interface and nice informative articles. I will be coming back in a bit, thanks for the great article.

Oh my goodness!  Youre so right!  I really dont think anyones put it that way before!  You must be an expert on this because you just made it so easy to understand, made me want to learn more about it!  Do you, like, study this subject because you seem to be so in tune with the issue?  Keep it up, man.  Youve got a great mind for it!

I totally go along you! I have often felt that way but nobody really would like to take it as seriously as we do apparently. Excellent blog anyway, I am going to have to stop by more frequently.

I am really thankful to the author of this post for making this lovely and informative article live here for us. We really appreciate ur effort. Keep up the good work. . . .

Thanks for taking the time to discuss this, I feel strongly about it and love learning more on this topic. If possible, as you gain expertise, would you mind updating your blog with extra information? It is extremely useful for me.

Me & my fellow classmates use your blogs as our reference materials. We look out for more interesting posts from your end about the same topic . Even the future updates about this topic would be of great help.

[...] Learn more about New Orleans' teachers [...]