Paul Stephens | Jun 25, 2009 | Comments 1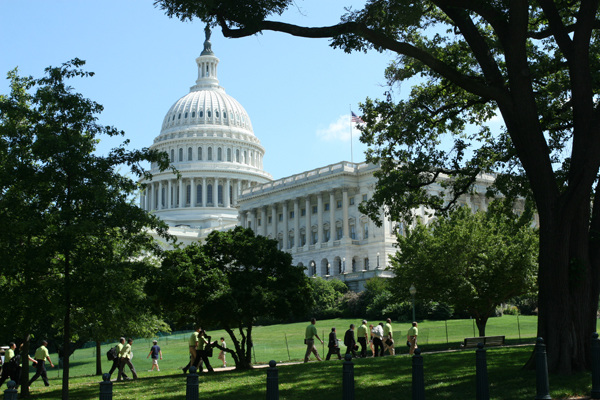 Hundreds of charter school advocates from across the country descended on Capitol Hill Wednesday to ask their representatives for more funding for charter schools and to build support for pro-charter legislation that has been introduced in Congress.
The event was organized by the National Alliance for Public Charter Schools as a part of the National Charter Schools Conference that was held in DC this week. Organizers said that it was the largest national day of advocacy in the movement's history.
Participants, many of whom were teachers and principals from charter schools across the country, wore blue t-shirts that read "I support high quality public charter schools" and caps with the pun "lift charter school caps" across the back.
Many of the participants were excited to be unified in such a large advocacy effort.  "We're so spread out, and in our own little areas we're such a small percentage of students," said Jen Thompson, the curriculum director at the DaVinci Academy of Science and Arts in Ogden, Utah. "But being together like this we can be a big visual presence."
One specific piece of legislation that participants were advocating for is the All Students Achieving through Reform Act, known as the All-STAR Act, which was introduced to Congress by Rep. Jared Polis of Colorado. The act would provide additional funding for charter schools through a competitive grant process that would award money to charter that have supposedly closed the achievement gap and are trying to replicate.
The federal government's role in the growth in the number of charter school across the country has grown with the unprecedented levels of federal education spending approved as a part of the stimulus package this year.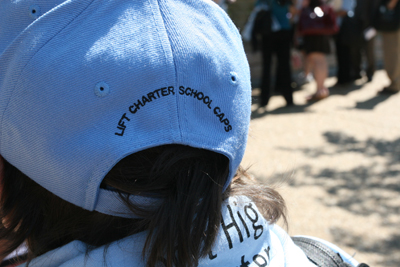 Charter laws are state laws, and charter schools are approved by state or local authorizing boards, but federal funding has been critical to charter school growth. The U.S. Department of Education currently gives out $216 million a year in grants for charter school start-up and facilities costs and the Obama administration wants to increase that funding by $52 million in 2010.
The administration is also putting pressure on the states to create pro-charter policies by saying that it will favor those states with laws that encourage more charter schools when distributing the $4.35 billion in education spending in the stimulus bill, known as the Race to the Top Fund.  Secretary of Education Arne Duncan has said that states with caps on the number of charter school that can be created, and the ten states that don't have charter school laws may put their funding at risk, if they don't change their laws.
Secretary Duncan also said on Monday that he would like charter schools to play a large role in improving the lowest-performing five percent of schools, about 5000 schools across the country. That initiative will be funded by a $3.5 billion school improvement fund, which may increase to $5 billion in 2010.
The increase in federal funding for charters and the pressure that the administration is putting on the states to involve charter schools in school reform and improvement projects is likely to make charter schools an even larger presence in public education.
"We may never have an opportunity like this again – this President, this Congress, $100 billion dollars, and a broad and growing consensus around the importance of education," said Secretary of Education Arne Duncan at the conference on Monday. "This is our time and this is our moment."
Charter school supporters are no doubt happy to have an advocate at the top.
Filed Under: Michigan • National Charter Schools Conference Coverage • Washington, D.C.
About the Author:
Comments (1)
Hi!
Usually when i see a blog i read through it and move on, however yours was trully a great 1, i thought i would take the time to give you thanx for such a great blog post.