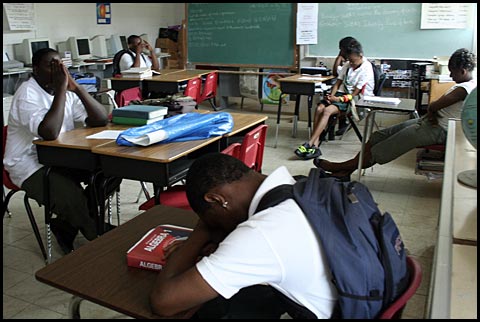 In the 1960s, Transcendental Meditation, or TM, was a popular spiritual practice whose followers included the likes of the Beatles and Mia Farrow. Today, TM has been scrubbed of its patchouli-scented past, morphing into a trademarked "meditative technique."
Its proponents tout the practice in boardrooms and doctors offices. In the last few years, it's even cropped up in public school classrooms. But not everyone thinks it belongs there.
One of those schools practicing TM is the IDEAL Academy in Washington, D.C. It's part of what the inner city charter school calls "quiet time" — when students stop talking, close their eyes and begin to meditate.
"It feels like you're floating on clouds," says 5th-grader Jami Jones, describing the 10 minutes in the morning and afternoon when she sits at her desk — and, in the language of meditation, "quiets her mind" and recites her secret ritual word, or mantra.
The school's pilot TM program started last year with a goal of reducing stress and increasing focus to boost achievement.
Dr. George Rutherford, the charter school principal, says the poor neighborhoods where most of his students live are a big source of stress. "And if a child comes in and they're stressed out, how do we expect them to learn?" The answer, he says, is TM.
Last year, 25 public, private and charter schools across the country adopted TM programs. Next year, the number will likely reach 100, with "quiet time" popping up in cities such as Los Angeles and Boston.
But times might not have changed as much as Rutherford thinks. Edward Tabash, a lawyer with the organization Americans United for the Separation of Church and State, says it's not the business of public schools to "lead kids to inner peace through a spiritual process."
Tabash, who meditates himself, says TM has its roots in ancient Hindu practice — "so if you teach Transcendental Meditation, we'll open the floodgates and then allow any religious or spiritual group to have access to formal teaching of its edicts in the public schools."
For kids like 10-year-old IDEAL Academy student Leyah Smith, religion doesn't enter into the picture. For her, TM's just a tool to help her get by. "It makes you feel better," she says. "It makes you stop being frustrated. It makes you feel good about yourself."
Op-Ed by Nick Street Published in the Los Angeles Times, July 25, 2007