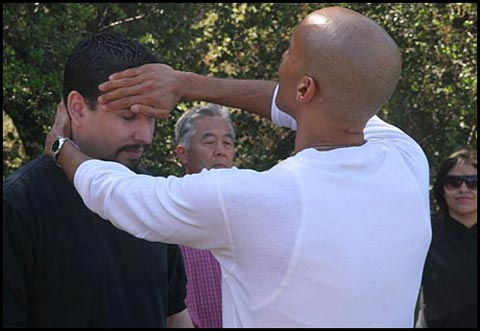 Baptisms, Bar Mitzvahs, circumcisions, confirmation, ordaining, quinceaneras, even vision quests are entryways into religion that are familiar to us through popular culture. The groups whose practices don't appear in the mainstream media may be unfamiliar, and they vary significantly, but certain factors are essential and common to the initiation rituals: a sense of transformation, acknowledgment of the power recognized by the group, commitment to the belief system, a sense of community and acceptance, and awareness of conscious choice.
Many of these groups only accept members as adults, meaning that everyone who joins does so by choice. Followers believe their ritual has greater meaning if the initiated are conscious of their choice of faith.
Wicca is a variety of witchcraft founded on spiritual concepts and a code of ethics. Most wiccans worship a goddess and a god and embrace some elements of animism, showing a great deal of respect for nature. The initiation is a highly personal experience largely dictated by the initiate, sometimes with the guidance of a mentor.
Raelians — who believe in extraterrestrial creators called Elohim, who watch over the planet from above — have a very open initiation that happens four times each year, when they believe the Elohim are close enough to Earth to be in contact with humans. Genetic codes are transmitted to the Elohim through a ceremony using water touched to an initiate's forehead and neck. Freedom of choice is central, as people are allowed to step forward and be initiated whenever they are ready.
Members of the Hare Krishna faith prefer not to initiate members younger than 18. They want "devotees," as they're called, to have a complete understanding of the religion they're entering and to be fully aware of the choice they are making.
The International Society for Krishna Consciousness, commonly known as the Hare Krishna movement, believe Krishna is the highest form of god and follow scriptures more than two thousand years old. Initiation into the Krishna faith involves one to two years of study under a guru and culminates with a commitment to certain practices: chanting several times each day and abstaining from alcohol, drugs, meat and sex for pleasure.
The actual day of initiation is sometimes described as a very significant event and other times said to be merely the formal marker of the preparation, or a symbolic expression of a change in faith that has already happened. Often the initiated person speaks about their pre-initiation self as a different person from the one they became in joining their spiritual community.
What is consistent, though, is a sense of transformation.