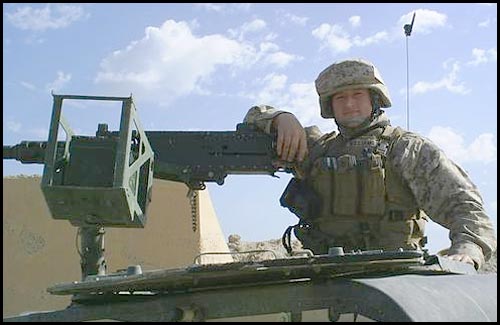 A big, pushy alpha male decided to air his dissatisfaction with his cell phone service provider as he stood across the counter from Jeremy Williams, a wireless consultant with Sprint Nextel. To the outside viewer, the testy exchange between the two men wouldn't have looked unusual, but Williams is a seven-year veteran of the Marine Corps with three tours of duty in Iraq under his belt.
"I turned on killer mode," says Williams, a 25-year old Long Beach native stationed at Camp Pendleton during his service in the Corps. "I wanted to beat him senseless. It would've taken one punch for me to kill him."
Williams says it took him about three hours — plus a beer, a few cigarettes and a plate of hot wings — to calm down after his confrontation with a fairly typical customer who nevertheless managed to trigger his post-traumatic stress disorder (PTSD). "That's just what it's like dealing with PTSD in my daily life," Williams says. "I'm very uncomfortable about being a civilian."
The toll of war on the human psyche
Williams is not alone. According to testimony before the Senate Veterans Affairs Committee, which is reviewing legislation to fund suicide prevention and treatment for post-traumatic stress disorder in vets returning from Iraq and Afghanistan, Veterans Affairs hospitals can expect as many as 700,000 new cases in the next few years.
One of the most intriguing aspects of the Senate legislation is a provision to support research into "best practices" for suicide prevention and post-traumatic stress reduction. For troubled vets, those two simple words open up a whole new world of possibilities, including one field of therapy that might surprise people: meditation and other so-called "mindfulness" exercises.
The toll of war on the human psyche is nothing new. But the response of mental health workers to the latest generation of traumatized warriors marks a novel turn in the West's borrowing of Eastern spiritual practices. The National Institutes of Health is funding studies of soldiers in Atlanta, Philadelphia and Boston involving mindfulness-based stress reduction techniques applied to post-traumatic stress disorder. In California, psychologists and meditation teachers are developing similar strategies.
Jeremy Williams, the formerly cammo-clad killing machine now manning a counter at a Sprint Nextel, attended a retreat sponsored by the Coming Home Project, learning skills that put him at the leading edge of the trend. "A couple of times a week I use relaxation techniques," he says. "I take some time to meditate by myself, just being aware of thoughts and checking in with myself." This from a warrior who counts the Iraqi invasion of 2003 and the Second Battle of Falluja among the "high points" of his career.
The retreat was designed by Joseph Bobrow, a meditation teacher and psychologist who founded the Coming Home Project through San Francisco's Deep Streams Zen Institute in 2005. In the 1980s, Bobrow spent two summers in Plum Village, a monastery in France where Vietnamese Zen teacher Thich Nhat Hahn led retreats for Vietnam War vets. As soon as he announced the Coming Home Project's lineup of workshops, retreats and pro-bono counseling services, Bobrow started getting referrals from VA hospitals and military medical personnel across the country. "There's a pretty big gap to fill," he says.
The stress management techniques are carefully tailored to the needs of each vet because, "It's difficult to use the body as the focus of attention when the body has been injured," he says. "In that case the emphasis is on breath-counting or simply learning to 'watch thoughts.'"
Being still is just too freaky
Some vets do resist using coping skills adapted from Buddhist practices, mostly because the initial experience of mindfulness - and even the word "mindfulness" itself - is so alien. For young vets used to video games and pounding music — and the din of the battlefield — "Being still is just too freaky," Bobrow says.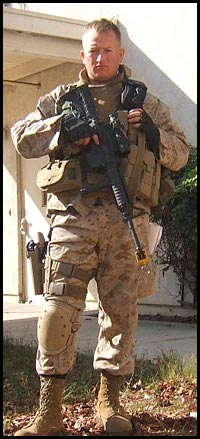 But while some soldiers are leery of meditation, the Buddhist notion that suffering is a shared experience can be a big help to their family members. Spouses and children of soldiers are beginning to grasp that vets aren't the only ones affected by the trauma of war. "I realized I have secondary PTSD," says Tonia Sargent, whose husband Ken, returned to Camp Pendleton after he sustained a severe brain injury in Iraq. "I get triggered because he gets triggered."
Sargent, a wellness instructor, says that in the three years since her husband returned to California, they and their two daughters have had to deal with "emotional, mental, and spiritual brokenness." Yet, she says, "The system's not prepared to help us deal with what I call a permanent bipolar situation. Every day it's highs and lows, but there's never a medium."
At an event the Sargents attended in Houston honoring injured vets, Sargent was shocked to see how blind the well-meaning organizers were to the emotional issues faced by people like her and her husband. "Ken was so overwhelmed by the crowds and the noise that he retreated to the men's room and started establishing a perimeter," she says. The only space for the vets to socialize between events was a hotel bar - "a place for traumatized vets to hang out and self-medicate."
Now, the Sargents are integrating elements of Buddhist spirituality into a military and home life that also includes church groups and Bible study. "The solution for us has to be a combination of Eastern and Western ways of dealing with PTSD," Sargent says. "Don't just give me pills! We need to learn to feel these emotions and let them surface."
The pathway out of suffering
THE USE OF BARE-BONES MINDFULNESS practices to help traumatized Iraqi vets and their families could lay the groundwork for a larger reconsideration of the root causes of this kind of trauma. John Briere, director of the psychological trauma program at Los Angeles County-USC Medical Center, says the medical study of mindfulness has changed the way psychologists talk about suffering.
"Avoidance is our instinctive response to pain," he says. "But if we're driven to avoid the feelings that hurt us, we'll keep getting hurt. The primary contribution of Buddhism to mental health has been to teach us that to the extent that we're not avoiding internal experience, we've found the pathway out of suffering."
Briere notes that just as post-traumatic stress disorder in vets returning from Vietnam prompted the mental health establishment to acknowledge that "post-childhood events are important too," studies of veterans of Iraq and Afghanistan are likely to provide impetus for change.
"The current event-based definition of trauma is an artificial construct," he argues. In fact, Brier believes that it is the overall experience of war, and not the acute horror of seeing a buddy killed by roadside bomb, that creates lasting trauma in vets returning home from the front. "It's illogical to trace the kind of trauma we're seeing to a single experience," he says. "It makes more sense to ask, 'Did the war give you PTSD?'"
Brier's iconoclastic notion, which is gaining quiet acceptance, helps to explain a seemingly paradoxical fact: Many traumatized vets long to return to war. That's because the battlefield and the bunker are the only places where the external world —filled with explosions, blood and the threat of death — matches the tight bundle of fear and other emotions inside.
"I'm still having nightmares and flashbacks," says Jeremy Williams. "And my wife sometimes wakes up in the middle of the night because I'm patrolling the house in my sleep. But when I talk to friends going back for a fourth tour or see a commercial for the Marine Corps, I just feel like, 'give me my boots back and my M16 and let me go do my thing.'"
With any luck, it will be his training in mindfulness — not cigarettes, beer and his M16—that helps Williams adjust to life back home.