The Maori were recently in town for an event staged by a PR firm in New Zealand, and being good guests, they invited representatives from the Tongva tribe to a ceremony at the beach in Santa Monica to mark the occasion.
"We're honored that the Maori thought to ask us," said Linda Gonzalez, who traces her Tongva lineage through her father to villages in the Santa Monica Mountains, which loom craggily at the western end of Santa Monica's broad waterfront.
"We all look the same," Oscar Ortiz observed as he surveyed the happy barefoot crowd of Maori, Tongva and Chumash, another tribe with its roots along the Southern California coast. "We're all seafaring people," he said as he turned to gesture toward the Pacific Ocean. "We all feel the sacredness of water and its relationship to the land."
Ortiz said he's part of a growing movement to recover the canoe culture that once connected the Tongva and the Chumash to Catalina and the other Channel Islands, as well as to other tribes along the California coast.
"It's our way of reviving our spiritual practice," he said. "Every movement when we paddle is a prayer."
This intimate relationship with the environment is a hallmark of many indigenous cultures. At a time when planet-wide environmental degradation is big news, Ortiz sees the renewal of Chumash and Tongva culture as a boon for all Californians.
"In the long run, the whole state will benefit," he said. "Understanding the ways of First Nation people brings back knowledge of how to live with the land. We say we have two mothers, and the land is the more important one. The difference between Western culture and our culture is that we don't point up when we point to heaven, we point down at the earth, to the very spot where we're standing."
Cindi Alvitre, a professor of indigenous studies at Cal State Long Beach, described the phenomena underlying most earth-based religions and contrasted those practices with an otherworldly spiritual orientation.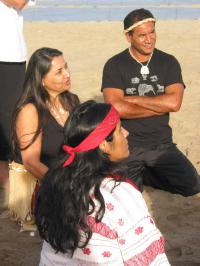 "The land produces energy fields," she said. "Indigenous people interacted with these fields—that's how our ritual and language evolved. Our creation stories are tied to this landscape."
Alvitre, who traces her Tongva roots to settlements on Catalina Island, said that reclaiming lost spiritual practices has been especially challenging for the Tongva, whose territory now lies beneath the city that embodies American urban sprawl.
"We don't have anything but a genetic memory of this connection to the land," she said.
In the mid 1990s, when Tongva remains were discovered at construction sites along Santa Monica Bay, tribal leader Anthony Morales and historian Marc Acuna formed a committee to recover and protect Tongva culture.
"Until then, we were basically just sitting around and eating tamales," Acuna said.
Acuna's research at the Southwest Museum and the Pasadena Historical Society unearthed wax-cylinder recordings of Tongva songs and prayers from the 1930s. As he started to learn about the connection between Tongva herbal culture and spiritual practice, a trip to an exhibit on medicinal plants at the Los Angeles County Botanical Gardens in Claremont prompted an astonishing discovery.
"There were all the plants that I'd grown up seeing in my grandmother's garden!" Acuna said.
Acuna's attraction to the fine points of Tongva herbalism and spirituality are a natural extension of his role as wehepet, a term meaning "two-spirit" or "two-road" that was traditionally applied to people we would now identify as gay or lesbian.
"Two-spirit people are the gatekeepers between worlds," Acuna said. "In most indigenous cultures they have a terrific spiritual duty to perform."
That spiritual duty is essentially to act as the conscience of the tribe. When recent debates over whether to push for Tongva gaming rights began to create strife in the community, Acuna participated with flair.
"Being wehepet, I don't vote in tribal political matters," he said. "But I can definitely voice an opinion. When things started to take a wrong turn, I said, 'I'm taking my feathers and beads and going home.'"
Acuna may be called on to make a few more dramatic entrances and exits in the near future. The prospect of easy money from casino licenses is often destabilizing for Native American communities, and the Tongva experience is no exception. Rifts in the community have sparked debate over who's a "real" Tongva, and both factions of the traditionally peaceable tribe have enlisted lawyers to represent their interests in what has become an unfortunately familiar reenactment of collective trauma in the post-colonial world.
While the gaming controversy proved catalytic for Acuna, the discovery of ancient human remains at Playa Vista spurred tribal leader Anthony Morales to get involved in a statewide movement to protect sites sacred to First Nation people.
"When I heard they were finding bones in areas that used to be wetlands," Morales said. "I knew whose bones they were finding, so I started going to City Council meetings and I started lobbying for legislation to protect the remains of our ancestors."
Morales and activists from other California tribes have won some dramatic victories with the help of a very sympathetic governor. Laws passed in 2004 and 2005 require local governments to consult with tribes when they create or modify land use plans and enjoin developers to stop work and contact local tribal leaders when they uncover burial sites.
"The legislation bringing native people into the land-use decision-making process is the first law of its kind in the country," said Cuauhtemoc Gonzalez, tribal outreach staff assistant in California's Office of the Governor.
This renaissance of the traditional Tongva relationship to the land may soon reach well beyond Southern California. Five years ago, Cal Tech astronomers Mike Brown and Chad Trujillo discovered the first large object in the solar system since Pluto was found in the 1930s. They named the distant dwarf planet Quaoar (pronounced "kwa-war") after the Tongva creator deity.
Marc Acuna and Anthony Morales will soon have a new issue to bring before the tribe. The team at Cal Tech has recently discovered a moon orbiting Quaoar, and it will be up to the Tongva to name it.