COWBOYS & INDIANS
Texan congressman Lampson relies on South Asian bloc for reelection strategy
by Anup Kaphle and Jonathan Maher
It's a good thing Congressman Nick Lampson likes Indian food. Over the last two years, he has attended a score of South Asian events, reaching out to a constituency that may hold the key to his reelection in the 22nd district of Texas this November.
Political pundits, such as Larry Sabato and Stuart Rothenberg, aren't sure how to call this race but they think Democrat Lampson will have trouble conserving a traditionally Republican seat that Tom Delay held for 21 years before he was forced to resign in 2006 for a campaign finance violation. Lampson won in 2006 largely because the Republicans, in disarray over DeLay's resignation, were only able to field a write-in candidate against him.
In 2008, Republicans think they have a good chance to win back the seat and have called on their heaviest hitters, Vice President Cheney and President Bush, to help raise funds for Lampson's opponent, Pete Olson, a former Navy pilot.
"Republicans' heaviest hitters, Bush and Cheney, have helped raise funds for Pete Olson."
The Democrats, who have already reserved more than a million dollars for Lampson's TV campaign in the fall, read the situation differently, with a focus on the changing demographics in the district. Situated in Houston's southwestern suburbs, TX-22 now boasts a much more diverse constituency than it did when DeLay was first elected. White voters, who used to be heavily Republican, now make up less than half the total population. The rest are African-Americans, Latinos, and South Asians, making it a "minority majority" district.
The South Asians, who make up 5% of the population, have become the focus of the Democrats' attention. First, they are registered in high numbers. Unlike African Americans and Latinos, South Asians do not have a long voting history with either party. But they are moving toward the Democrats and that may provide Lampson with the margin he needs to keep his seat in the hands of Democrats.
Many South Asians first came to Texas as graduate students in the sixties and seventies after the 1965 Immigration Reform Act eliminated the quotas on different nationalities. Spurred by the development of NASA and of Houston's world-class research hospitals, many became physicians and engineers.
By the 1970s, they had begun to organize community groups to promote religious worship and cultural events, but mostly stayed out of the political limelight. It was only in 2004 that two community leaders A.J Durrani and Arif Gafur urged their fellow South Asians to run for office by starting at the lowest rung -- the local precinct chair. South Asians also founded organizations like the Indo-American Forum of Fort Bend and the Coalition of New American Communities, which hopes to screen the congressional candidates this fall.
The community has also distanced itself from the Republicans. They took umbrage at the GOP for their conservative stance on immigration and at Homeland Security for the discrimination they have suffered in the wake of September 11. They looked, in greater number, to the Democrats who themselves were in search of new voters.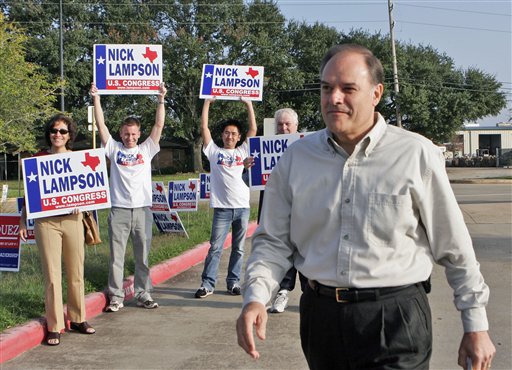 In recent years, Democrats have been using more sophisticated approaches to reach out to these Asian voters, including direct mail and door-to-door field programs in their native languages. The evidence seems to suggest that the outreach is working and that South Asians are now more apt to vote. In 2008, in Fort Bend County, where South Asians are most concentrated, 33,000 voters came out to partake in the Democratic primary, as opposed to just 3,000 in 2006 (the recent presidential primary also explains the gap). In the Sugar Land mayoral race of 2008, which involved an Asian candidate, the election had a 20% voter turnout, relatively high for a municipal election.
Hoping to capture this momentum, Lampson is energetically reaching out to this community. He recently hired an Indian-American district director, a move that did not go unnoticed by the South Asian community. He is not just looking for votes, but also to raise money from South Asians. With its strong social network, the affluent South Asian community is natural for political fundraising. "The social network that binds us is our biggest strength politically," notes Mustafa Tameez, a Pakistani-American who has established himself as an influential political consultant in Houston.
Lampson's Republican opponent Pete Olson has some cachet with the South Asian community. He was the chief of staff for Sen. John Cornyn (R), one of India's staunchest allies in the US congress and the founder of the US Senate India Caucus. As one senior Democratic fundraiser admitted "There are a lot of people I know today in the Houston area who would write a check to John Cornyn on the one hand and Nick Lampson on the other hand."
But Olson has chosen to forego targeted community outreach, saying it does not adhere to his campaign philosophy of focusing on the issues and transcending ethnic differences.
To be sure, Olson may not need the South Asian community as much as Lampson does.
District 22 remains a conservative bastion, with some 55 percent of the voters identifying themselves as Republicans. "This is a predominantly Republican district," says Rick Miller, chairman of the Fort Bend County Republicans. "We have a lot of work to do but in the end we have a Republican base that will come out." As Olson says himself "If our people turn up, we will win".
But Lampson and the Democrats could prove them wrong. "The suburbs don't look like they did two decades ago, where it was a cluster of white flight," says Tameez. "Now the professional class that is emerging in these suburbs, a lot of them are comprised of Asian and south Asians." The party that will capture this ethnic vote could keep a lasting political majority in this district for years to come.