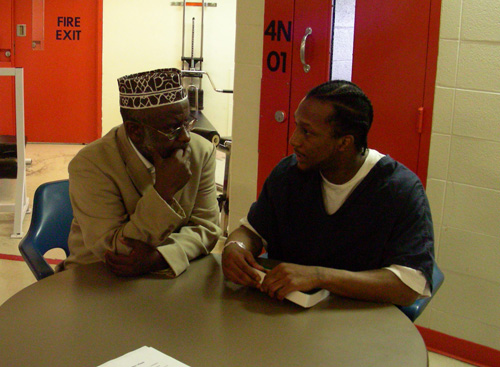 WAUKEGAN, Il.--It's 8:30 in the morning, and Imam Hasan Hakeem is pulling a tan suit jacket from a plastic sleeve in the trunk of his van.
"You can't dress casually if you want them to respect you," he says. "Now, if I showed up in a t-shirt, they would think I was sick or something." He is focused, in a quiet hurry to enter the Lake County Jail.
As Hakeem walks through the front doors, however, he slows down markedly. He jokes with the guards, chats with other chaplains, says hello to folks in the administration. When moving from room to room, he makes a point of not pushing the button that alerts the guards that he needs them to open the doors.
"They can see me on the video," he says, giving a small wave to a camera. "They have a lot to do. I don't want to annoy them. This is their house, I have to respect that, and be as respectful as I can."
Hakeem has made it his mission to change the way inmates at the jail view the world and themselves, removing them from the negative way of life learned on the street.
But his ministry doesn't stop with inmates in jail. He and his community at the Ahmadiyya Movement in Islam in Zion, Ill. embrace them in the community after they are released.
Hakeem is proving that the Muslim faith can be a powerful tool for rehabilitation at a time when Islam's presence in the penal system is under scrutiny.
Before Hakeem, the Lake County Jail hadn't had a Muslim chaplain in almost a decade, largely because there were few Muslim inmates. But early this year, when some inmates said they were Muslim, the jail called Hakeem, who was initially reluctant.
"I hate jails, I still do," he says. "If you told me 10 years ago I'd be working in the jail, I'd have called you a liar. But I changed my perspective on incarceration and what leads to a person being incarcerated and how to save them because my youngest son is incarcerated right now because of some stupidity that he had." His son is being held on charges related to armed robbery.
Hakeem lives three blocks away from the jail.
"Sometimes I'm there three, four days a week," he says. "I just get this feeling that they need me, and I'm there. If I can't go, I start to feel guilty, as though I've failed someone."
He spends as much time at the jail and dealing with inmates' families as a full-time job, but it isn't a job. Hakeem isn't paid, and still manages to juggle his responsibilities as an imam and a freelance writer on the side.
About six months ago, Hakeem met with inmates as a traditional visitor would — with a large sheet of Plexiglas dividing them. But Hakeem decided that if he were actually going to have an impact on these people's lives, he'd have to see them face-to-face.
So he told the jail's administration that if he were to continue guiding inmates, he would have to have free movement throughout the jail, as chaplains are generally afforded.
By the jail's policy, Hakeem must visit between meal times, often affording him as little as 90 minutes, so he never gets to everyone he needs to see. He doesn't seek out new inmates to talk to, as he says conversion is not his mission.
Nevertheless, his reputation for humility and empathy has spread throughout the prison. When he walks into a cell block, inmates crowd around him as if he were a celebrity, shaking his hand and bumping fists to say hello. In the few months that he has been there, about 20 have accepted Islam as their faith. The jail holds about 700 inmates.
Since 9/11, Islam's place in prisons has been under increased scrutiny, as many have worried that its spread could allow for the infiltration of radical ideologies.
For example, in September 2006, the U.S. Senate Homeland Security and Governmental Affairs Committee held hearings in which the FBI and Homeland Security urged prison officials to conduct more extensive background checks on workers and volunteers who meet with inmates. Members of Congress are also looking at possible reforms in prison security as a way to combat the spread of extremist Islamic beliefs.
Because of this, many prisons have been hesitant to hire new Muslim chaplains, fearing liability issues.
Nevertheless, Lake County Jail Chief Warden Jennifer Witherspoon says that Hakeem has been an invaluable resource. "He doesn't just limit himself to speaking to the Muslims; he transcends that," she says. "He brings knowledge and experience to the younger guys and the older guys can relate to him because of his age. If anyone had a stereotype of a Muslim as being violent or radical, he's shattered it."
Hakeem sees his work as part of a larger mission to combat what he characterizes as the growing threat of society's bottom class.
"We've been ignoring the underbelly of society for too long," he says. "This gang problem is deeper than al-Qaeda and all that stuff we talk about. There are people out there who have nothing to lose and have no fear. They're a real terrorist threat to our country, and they're mobilizing. We can't just lock them up and forget about them anymore. They come back. We've got to change how they think."
When Hakeem meets a new inmate, he doesn't ask why he is in jail. Hakeem says it's not the most important thing, and it will come out eventually. Instead, he discusses their feelings, their relationships, and where they are spiritually. He plans his visits accordingly, forming a mental schedule about who he needs to visit.
On a recent visit he sat down with John Blair, who is awaiting trial for attempted murder and other violent charges.
Blair, 25, a recent convert to Islam from Apostolic Christianity, had been hurting, as his grandmother, Betty, had said that she was preparing to die.
Blair, an imposing, muscular figure, was raised by the women in his family, and his chest and arms are covered in their names in homage. He wears a 'Betty' tattoo above his heart.
Hakeem sits close to Blair, leaning in attentively, his gaze unmoving, as though no one else existed in the world.
"Don't worry, we'll watch out for them," he tells Blair, placing a hand on his shoulder. He hands Blair a Qur'an, one of 300 his mosque bought for the jail, and promises to come back soon.
When Hakeem says he'll provide more than just lending an ear, he means it.
He shows up at bond hearings and trials as a character witness, and if he can't go, he sends a member of his mosque. He acts as a liaison and a support for family members, helping them deal with having a family member in jail, and addressing their concerns of faith if the inmate became a Muslim. And on this day, before he arrived at the prison, Hakeem spent an hour with Blair's family, consoling them and conveying messages.
Hakeem also acts as an intermediary between them and the administration, being the inmates' voice and the administrations' evaluator for authenticity. "I've had it with people filing tons of grievances. I don't want to hear all that crap, you're in jail, you should be thinking about how to save your soul."
By taking authentic religious needs directly to the administration, he avoids bureaucracy, meets inmates' needs, and saves the administration paperwork.
But it's not only in jail that Hakeem reaches out to inmates. He has adopted a mantra from Christian prison groups: "Meet them at the Gate." When inmates are released, Hakeem makes sure that they are welcomed at his mosque. He and the congregation try to find work for them, places to stay, and job training, but his main goal is to watch their spiritual and moral development.
"A lot of people just say 'Get them jobs,' as though that'll fix everything. It has to be more than just a job. A job doesn't change a person; it just makes life more difficult for him. We've got to mentor them."
The Ahmadiyya mosque in Zion occupies a location that has been sentimental to the faith for a century. In the early 1900s, newspapers in the United States brandied the sensationalist drama of a zealot founder of a new Christian sect that formed Zion as a new Jerusalem. The figurehead, John Alexander Dowie, was vehemently anti-Muslim. In response, Mirza Ghulam Ahmad, an obscure cleric from what is now Pakistan challenged him to a prayer duel. The first one to die was the one who was wrong.
Dowie died in 1907, and about forty years later, the Ahmadiyya Movement, which grew from Ahmad's teachings, moved the Chicago area. The Ahmadi community in Zion has made a point in reaching out to the community that spurned them a century ago. The Christian sect still survives, albeit under a new name.
The city's quality of life has fallen precipitously since the closing of its nuclear power plant, its main source of income, in 1998. Currently, about 12 percent of the population lives below the poverty line.
In 1996, 15-year-old Ed Shimenti, Jr. was unfulfilled with his life in the impoverished city and was looking for an alternative to involvement in gangs. With a friend, he began attending mosques on Friday. His mother, Joni, says she was addicted to crack at the time, and that she thought he was just doing it to rebel.
"I thought he did it to get out of school early on Fridays," she says. "I did not support of him wearing that hat [a kufi] in the house or at school."
But Shimenti kept going, and made friends with the Ahmadiyya Movement in Islam at 2103 Gabriel Ave. The community embraced him, and Hakeem personally took him under his wing. When Shimenti wanted to attend the international annual convention in Toronto, they dipped into their own pockets to fund his trip. In Canada, Shimenti met with the Ahmadi caliph, a rare honor.
"[He was] a man with an aura of power, but was very meek and humble meeting with myself and members of the Zion mosque," says Shimenti.
Nevertheless, his mother, a devout Christian, fervently disapproved of Shimenti's interest in Islam, and refers to his visit to Canada as "brainwashing." Hakeem met with her, saying that given Shimenti's situation, it would probably be Islam or the streets.
Shimenti stopped attending the Ahmadi mosque.
Now, having just turned 26, Shimenti awaits trial in the Lake County Jail in Waukegan, Ill., as does his mother and father. In January, the police raided their house, and they were all arrested on drug charges.
Shimenti is again turning to Islam to change his life, and Hakeem is again acting as his mentor.
By reaching out to former inmates, the community has been burned before, however. Once, Hakeem says, a former inmate was allowed to live inside the mosque. He was employed at a gas station owned by one of the mosque's members, and caught stealing from the cash register.
"It was a bad experiment, real bad," says Hakeem. Now, he says, some of the members do not approve of his reaching out to inmates, something he takes to heart. "It's difficult. We need to concern ourselves with how others feel. If they feel unsafe, we need to think about that very seriously and find how to make them feel safe. But this is something very important.
On Fridays, during services at the mosque, he frequently reminds his congregants of the importance of his work.
"Remember that those first followers of the holy prophet Mohammed, peace be upon him, remember that they were but a small group, a small group of cast-outs," he said at a recent service.
"We need to be a force of positive change in this world and see outside of ourselves. It's the people who are incarcerated, the people who are sick, the people who are cast-away. We have a responsibility to serve God and community. If we're going to serve the community, let's not give lip service — let's do it, let's be people of action."
Hakeem knows that not everyone can be rehabilitated, and he has chalked up a loss or two. But he refuses to give up. For people like Fareed Sharif, a former gang member who is now a reformed member of the mosque, knowing that someone believes in people like him is one of the things that most helped him turn his life around.
"This place is amazing," he says. "Hakeem helped me to know that there is one god, that he loves me, and that he cares what happens to me. Now, I am protecting my soul."