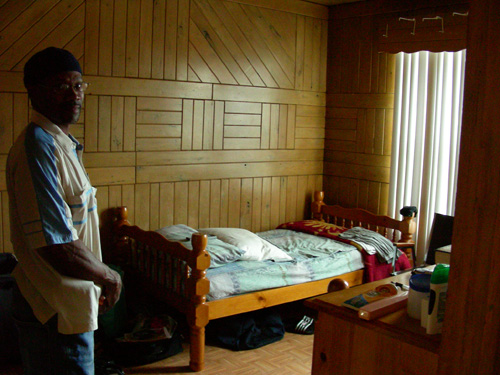 Nate Smith, who has adopted the Muslim name Abdullah Hassan Wasi, had not always intended on being a part-time checkout clerk at a supermarket. But at 9 a.m. on a hazy Chicago morning, he is stuffing his folded work clothes into a scuffed duffel bag.
Wasi, 48, adjusts his black, knit kufi in the bathroom mirror and heads out the door.
A small, gaunt man, he's doesn't exactly look like a former gang member and murderer. Indeed, it appears the 27 years he spent in various Illinois state prisons and his conversion to Islam changed him into almost a new person — nervous and meek, bright-eyed and optimistic, hard-working and full of probity.
Out of prison a little more than a year, Wasi is keeping his schedule free, spending much of his time praying, reflecting and planning for his future.
"I feel that sometimes a lot of things are passing me by and I'm trying to catch up when I should just be trying to focus on day to day to day," he says.
He has, by most accounts, been successful. In the past few months, he has taken computer classes, applied to numerous carpentry jobs, and established himself with a Muslim community that he says he can rely on.
Wasi is one of the first recipients of the Inner-City Muslim Action Network's Project Restore, which provides released inmates with basic living necessities, such as food, health care, bus passes, toiletries, and clothing, while the they focus their energy on community service, counseling and job training.
But Wasi's experience is much different than that of most Muslim men released from prison. Many often do not have such a strong support network, letting them easily fall into recidivism and, say some experts, terrorist activity. Programs like IMAN's, which guard against backsliding, are slow to spread across the country, due to a dearth of funding and general lack of interest, say experts.
Since the 1960s, African-Americans have converted to Islam in significant numbers, and they make up around 40 percent of the Muslims in the United States. The trend is much stronger among men than women, however, and the prison has been one of the largest factors in Islam's growth.
According to Gary Friedman of the American Correctional Chaplains Association, around 95 percent of the Muslims incarcerated in America are black, and the vast majority of them converted while in prison. Some experts predict that at the current rate of growth, there will be more Muslim than Christian black men in the United States within the next decade.
"Islam is attractive because there's this sense of colorblindness coupled with a sense of discipline; everything is regimented," says Professor Aminah McCloud, an expert in African-American Islam at DePaul University. "Also, there's the attractiveness of being outside of a world where before you open your mouth or open a book, you're categorized."
In prison, Muslim inmates create tight social groups with their own mores and standards. But when inmates are released, this network is quite often cut off.
Laws require that persons on parole cease all contact with other ex-offenders, namely those convicted of felonies. Added to this is the fact that the families and friends of most of the inmates that convert in prison do not themselves convert, creating a divide when the inmate returns home.
Often, the Muslim community on the outside is not as united as in the prison, and the inmate might not feel that he fits in with the community closest to him. And, worst yet, under the current system, the inmates are released into the same environment that steered them on the criminal path that led to prison in the first place. Studies show that more than half of inmates released are back in prison within three years.
"When you come home, there's isolation," says Rafi Peterson, coordinator of Project Restore. "You have brothers that come out, and people don't understand, even their families sometimes, the psychological, emotional, and as well as trauma that they're going through."
Peterson was released from prison himself ten years ago, and soon joined up with IMAN to reach out to prisoners in Cook County Jail. But Peterson realized quickly that even though he earned two college degrees during his incarceration, he still had a difficult time finding employment. Because he saw that many others were going through the same problems, and the lack of opportunity was a factor in frequent recidivism, he and IMAN set out three years ago to create a program to help Muslim ex-offenders and break the recidivist cycle.
"We came up with a concept to try to develop the whole human being and make him a productive individual and bring him back into the community," he said.
Project Restore's transitional housing program, which began in February, is the first Muslim program of its kind in the state of Illinois and among the first in the nation.
There is room in the program for five ex-offenders, who are chosen by a panel of IMAN's board members, and they are required to commit to spending six months to a year in the program. Everything is provided free of cost to the ex-offenders; even if they have work during their stay, they are encouraged to keep the money to help start their new lives.
Not only are the ex-offenders taught life skills, such as computer fluency or dealing with stress, but they are also integrated into IMAN's community service programs, including IMAN's criminal justice reform work, its food pantry, and its upcoming free breakfast program at Lindavista Mexican Grill, a Halal, organic restaurant located just below their apartment across the street from IMAN's offices at 2744 W. 63rd St.
For his part, Wasi has been volunteering as a security guard at IMAN events and block parties. He has also started speaking at Project Restore's outreach events, telling an audience sometimes numbering a hundred people the story of his life, how he was convicted of murder, and how this new life has restored him — and his faith.
Wasi says he feels that he has become an integral part of IMAN, and he has committed himself to continue helping the organization in the future, no matter his location.
"IMAN has been the perfect environment for a person like me, after doing all the time that I did," he said. "For an ex-con like me, it would have been much harder to find a job or get a place to stay. I owe IMAN so much in gratitude; I will always be here for them, no matter what."
According to a 2006 report by researchers from George Washington University's Homeland Security Policy Institute and the University of Virginia's Critical Incident Analysis Group, individuals released from correctional institutions are vulnerable to radicalization and recruitment by radical groups, because many leave prison with very little financial, emotional, or family support.
"When inadequate formal support is provided for inmate transition, radical religious groups may fill the void by offering both financial and emotional support," according to the report. "If connections are made with a radicalized community group, the recently released inmate may remain at risk for recruitment or continued involvement in terrorist networks."
Daveed Gartenstein-Ross, co-chairman of the Washington, D.C.-based Counterterrorism Foundation, says that a feeling of disaffectedness from society can be a major factor in radicalization, and that this sentiment in released prisoners can ease their slip into radicalization.
He says that radical organizations may currently be able to contact inmates while in prison and then obtain a stronger hold on them when they are released if something else isn't there to deter them. And, Gartenstein-Ross says, the parole system is not an effective tool to monitoring radicalization.
"It is not very affective in general in monitoring people, it monitors them for recidivist activity, but the parole system isn't designed to tease out if somebody has been religiously radicalized," he says. Still, he added that such a duty should not necessarily be part of the parole system due to high costs and, just as important, the invasive state inquiry this would require to be imposed on ex-cons.
While Gartenstein-Ross cautions concern should be directed at the threat of post-incarceration radicalization, but stressed it should not be exaggerated.
"We don't have a good answer to how big a threat this is, and there needs to be more research on the matter," he said. "We don't know of an organization that has made contact with an inmate while he was in prison and recruited him afterwards."
But he said the lack of knowledge of a discrete incident does not mean it hasn't happened. Consider Jose Padilla, the former Chicagoan who has recently been convicted of aiding terrorists. It has yet to be determined how he was radicalized, or whether it was in prison or after he was released.
That said, Gartenstein-Ross added that legitimate post-incarceration programs like the one at IMAN are a strong bulwark against disaffectedness and radicalization.
The need is quite apparent. A little more than two million inmates are incarcerated in U.S. jails and prisons, but a substantially greater number have served time and have returned to society. Experts estimate that around 13.5 million Americans spend time in jail or prison every year, and 95 percent of them return to our communities.
And yet programs like Project Restore are few and far between.
"The programs are out there, but even now it's hard to list all of them," says McCloud. "I could probably count them on my hand."
She says that the programs are generally very loose and informal, the product of a dedicated mosque or community.
Sally Turner, director of the Reentry National Media Outreach Campaign, which is based in Providence, R.I. and supports community and faith-based organizations by facilitating community discussion and about reentry programs, says the Muslim community is lagging behind the Christian community in regards to outreach.
"I work to host a number of community forums around reentry, and we'll have two or three Christian organizations, and perhaps one Muslim," she says. "It is really the Christian-based organizations that are leading the charge, despite the fact that there are so many folks who are returning to their communities who are converting to the Muslim faith.".
She identifies two problems: Muslims seen as being outside of the mainstream and a lack of funding. "In order to build the capacity of any organization in order to advocate, that takes dollars, and a lot of mosques don't have that," Turner says.
In fact, a program used as an example of excellence by the Reentry Campaign recently shuttered due to lack of funding. The Shadow Program at the Islamic Health and Human Services foundation in Detroit started in the early 1990s, and was innovative in pairing released prisoners with a mentor to provide information, support, and introduction into the Muslim community.
Ausaf Farooqi, the coordinator of the Council on American-Islamic Relations' Prison Project, says that a large reason that organizations are struggling for money is often lack of interest. "If anything, among Muslims, it might be a general apathy, where they just don't have a concern and they're indifferent," he says. "The Muslims who are more well-off or live in areas where you don't have this problem of people going to prison from their own community, they kind of turn a blind eye. Inmates don't come out and live in their neighborhoods and be a part of their masjids [mosques] or community centers."
Farooqi guesses that many Muslims would be surprised to learn that more than 6 percent of the incarcerated population in Illinois is Muslim, compared with only 3.5 percent of the state's general population.
But McCloud says that the issue goes deeper than simple apathy, and may be culturally ingrained.
"Having something for prisoners after they serve their sentence is a very Western thing," she says. "The expectation in the rest of the world is that the people's families will help them acclimate themselves back into the general society."
She says the Islamic community can be extremely racist, and immigrant Muslims may be carrying prejudices against African Americans first taught to them through British colonization.
Meanwhile, IMAN's Project Restore may also be facing financial difficulties.
Peterson worked for years to establish the transitional housing program, mostly looking for funding from a community that he found largely unconcerned.
"In certain communities, like Villa Park or Bridgeview or Schaumburg, of course they're not dealing with the issues that we're dealing with at 63rd and California in Chicago," he says.
IMAN, he adds, was blessed in 2006, when a generous couple donated enough money for the program to operate for a year. But that money will soon run out, threatening to cut Wasi's and other needy former inmates' stays short.
In November, Wasi will apply for a reduction in the length of his parole. He says he hopes to see more of the world, perhaps using the money he's saving now to move to the New Orleans area, where a late grandmother left him a parcel of land. "I just want to create a better life for myself, to start over and maybe open a small maintenance and cleaning company," he says. "Being here has been a beautiful experience for myself. It's a beautiful experience for anybody that needs assistance. They are true friends; they reach their hand out to everybody."