A relatively unknown branch of the CIA is investing millions of taxpayer dollars in technology startups that, together, paint a map for the future of spying. Some of these technologies can pry into the personal lives of Americans not just for the government but for big businesses as well.
The CIA's venture capitalist arm, In-Q-Tel, has invested at least $185 million in startups since 1999, molding these companies' products into technologies the intelligence community can use.
More than 60 percent of In-Q-Tel's current investments are in companies that specialize in automatically collecting, sifting through and understanding oceans of information, according to an analysis by the Medill School of Journalism. While In-Q-Tel has successfully helped push data analysis technology ahead, implementing it within the government for national security remains a challenge, and one of In-Q-Tel's former CEOs, Gilman Louie, has concerns about whether privacy and civil liberties will be protected.
News reports about programs like Total Information Awareness -- an anti-terrorism government program that would have mined not only government data but also personal information -- and National Security Agency wiretaps, have sparked criticism by lawmakers, privacy advocates and the public.
"Of course, there's a lot more than what's out there in those articles," said Gilman Louie, who led In-Q-Tel from 1999 until January. When asked if In-Q-Tel's technologies could be misused, Louie said what makes the public uncomfortable is that other than "trust me," there has not been a whole lot of discussion about what can be done to prevent abuse. However, he added, In-Q-Tel has invested in technologies to help secure data from abuse.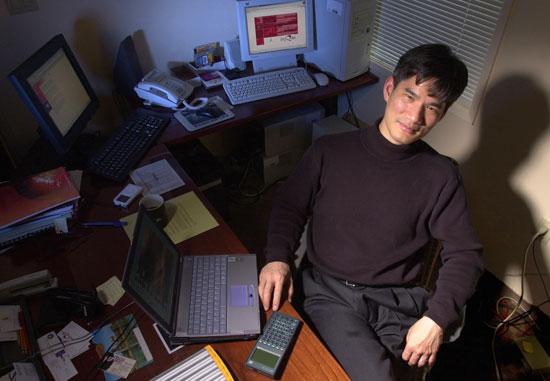 When the government fails to think through how new technologies are applied and how to protect Americans' privacy, Louie said, it risks setting civil liberties back and undermining support for important national security programs.
This week In-Q-Tel, named Christopher Darby, a former Intel executive as its new CEO in the latest in a series of leadership shakeups at the company. In less than a year the CIA's venture capitalist firm has had four new CEOs and has seen several other senior level managers depart amid rumors of conflict between management, and the firm's board of directors which ultimately oversee In-Q-Tel's investments.
Even before Sept. 11 there was a push within the CIA to use new technology to better analyze and share important information; after the attacks that effort intensified dramatically.
"It was a digital Pearl Harbor," Louie said, saying government had much of the information necessary to prevent the Sept. 11 and Pearl Harbor attacks but the intelligence community failed to "connect the dots."
Information sharing among federal agencies is still lagging, and sharing with state and local authorities and the private sector is even further behind, according to the July 2006 report by the Markle Foundation Task Force on National Security in the Information Age, a nonprofit, bipartisan group of policy makers and industry experts formed after Sept. 11.
"There is an ongoing battle, I would say, in this country and all over the world between security and privacy," said Scott Greiper, who studies intelligence failures. Greiper now heads the financial services firm Legend Merchant's new Convergent Security Group. "It comes back to the fears of a Big Brother society."
But based solely on bringing new technologies to the intelligence community, more analysts believe In-Q-Tel has been a success.
Of the 130 technologies In-Q-Tel has delivered to the intelligence community, 30 have been implemented, the firm says. In the past few years, the FBI and the Pentagon's Defense Intelligence Agency have joined the CIA in backing In-Q-Tel.
In-Q-Tel income comes from the government slightly bolstered by investment gains. Outside the intelligence agencies, In-Q-Tel companies have landed millions of dollars in contracts with government agencies from the IRS to the Bureau of Indian Affairs.
Some technologies it has helped create are powerful.
In 2004 CallMiner, a company specializing in capturing and translating voice recordings into searchable databases, sought out In-Q-Tel, according to Cliff LaCoursiere, CallMiner's co-founder and senior vice president of business development.
Although software already exists to translate voice into text, CallMiner claims it can extract more than just words from a recording. According to LaCoursiere, its software can translate conversations for not only what the people are saying, but the intent of what they were saying. For example, the company claims the software can figure out if a caller looking for technical assistant from a call center is sincerely, or sarcastically, saying "Thank you for your help."
So far, CallMiner's products are being used by Comcast, Continental Airlines and several other clients. According to LaCoursiere, CallMiner's products aren't yet being used by the intelligence community, but "it's an area we're aggressively going after." In August, CallMiner launched an application making it easier to use its tools with foreign languages.
Language Weaver uses mathematical algorithms to translate numerous foreign languages quickly. Human translators are needed only to tweak the translations, according to CEO Bryce Benjamin. The technology is used by government agencies including the Pentagon _ which is using the technology in Iraq _ and the National Science Foundation.
Other companies have developed technology to mine new bits of information from video, unstructured text, satellite images and handwriting.
In-Q-Tel companies' technologies also are used by major commercial companies including AOL, Whirlpool, Yahoo and L.L. Bean, among many others. A few companies, including Google, IBM, Lockheed Martin and TV-ratings guru Nielsen Media Research have gone a step further, buying In-Q-Tel companies. Part of the concept of In-Q-Tel was to help boost limited government research budgets by leveraging corporate and venture capitalist investments in In-Q-Tel's tech start-ups.
According to In-Q-Tel, for every one dollar it invests, eight dollars of private capital are leveraged.
Lee Tien, a senior staff attorney at the digital privacy nonprofit Electronic Frontier Foundation, said the overlap between technologies built for the CIA and corporate America isn't surprising. "Most everybody wants to know more about us." Nonetheless the potential for abuse gives Tien pause.
"How do you control, how do regulate, how do you govern that kind of power that has a very obvious ability to be abused," he added.
According to the report by the Markle Foundation Task Force written with Louie's help, "For information sharing to succeed, there must be trust – the trust of government providers and users of information, of policy makers and most importantly of the public. Each of these must trust that information is being shared appropriately, consistent with law, and in a manner protective of privacy and civil liberties."