About This Project
Northwestern University's News21 fellows look at America's new system of surveillance, developed by the government with the help of private data mining firms after 9/11. One story reports on how the Social Security Administration's massive databases are being used in homeland security investigations; another uncovers new details about a secretive program in which the Department of Education shared personal information on hundreds of student loan applicants with the FBI. Two immersive interactive presentations explore the digital trails we leave behind in our daily lives and government data-mining initiatives that might incorporate information about you.
Biographies of News21 Editors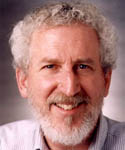 Rich Gordon is associate professor at Medill and director of new communities for Northwestern's Media Management Center. He served as multimedia coordinator for this year's News21 project, a role in which he worked with fellows and faculty at all four sites to help them develop innovative multimedia presentations. For the Medill project, he worked especially closely with the team that developed "One Vote Under God."
Before joining Medill in 2000, Rich served as the first new media director for the Miami Herald Publishing Co. He previously served as a reporter and editor for The Richmond (Va.) Times-Dispatch, The Palm Beach (Fla.) Post and The Miami Herald. At all three papers, he helped lead the newsroom's computer-assisted reporting projects.