About This Project
American religion is undergoing a vast and monumental change, in large measure because of the new immigrants coming to these shores. Will Herberg's 1950s paradigm of Catholic-Protestant-Jew has given way to a festival of rituals, practices, behaviors and beliefs that once seemed like the province of faraway lands. Today, mosques and gurudwaras and temples sacred to Buddhists and Hindus dot the American landscape along with churches and synagogues. What is more, Catholics, Protestants and Jews -- having absorbed immigrant populations -- aren't what they once were.
We are a group of graduate fellows of Columbia University's Graduate School of Journalism and Harvard University's Kennedy School of Government who studied the religious diversity of New York and then traveled together to India to see the roots of the faiths we examined. Our studies and our travels have convinced us of the imperative of better understanding the beliefs and practices not only of America, but of the world. With instant global communication and the ease of international travel, the faiths of distant lands are immediately at hand.
We plan to go about this exploration by undertaking a series of reports and interactive, multimedia projects on new American immigrants from Asia, the Middle East and Latin America. Our prism, however, will not be geography but faith. We will look at Hindus, Sikhs, Muslims and Buddhists, as well as Christians and Jews. We will begin with our home base of New York and then expand to American and foreign cities that best tell the stories of the new immigrants. We will look at how they are being changed and how, in the process, they are changing America.
Biographies of News21 Editors
Editorial Coordinator John B. Judis is a senior editor of New Republic, where he has worked since 1984. As a visiting scholar at Carnegie Endowment for International Peace, Judis wrote The Folly of Empire: What George W. Bush Could Learn from Theodore Roosevelt and Woodrow Wilson.
Judis' articles have appeared in American Prospect, New York Times Magazine, Washington Post, Foreign Affairs, Washington Monthly, American Enterprise, Mother Jones, and Dissent. He has written five books, including The Emerging Democratic Majority (with Ruy Teixeira), The Parodox of American Democracy, and William F. Buckley: Patron Saint of the Conservatives.
Russell Chun, Flash and design consultant to Columbia News21, is a freelance scientific art developer and multimedia Flash developer, author, and teacher. He creates visual and interactive educational media and consults and teaches others to use Flash as an effective pedagogical tool.
Russell is an adjunct at the Columbia University Graduate School of Journalism and at City University of New York (CUNY) Graduate School of Journalism. He has authored several books on advanced Flash: Flash 5 Advanced, Flash MX Advanced, Flash MX2004 Advanced, Flash 8 Advanced, and Flash CS3 Advanced, all in the VisualQuick Pro Guide series published by Peachpit Press in association with Macromedia/Adobe Press. His books have been translated in multiple languages and sold internationally. He has also written about Flash in magazines such as SBS Digital Design and MacWorld.
Kenan Davis is a multimedia journalist whose work has appeared in The Valdosta Daily Times, The Brooklyn Daily Eagle, The Village Voice, The Queens Tribune and on WAMC/Northeast Public Radio. He is now a new media fellow at the Columbia University Graduate School of Journalism.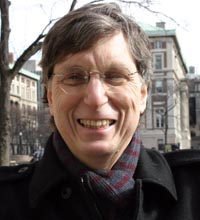 Coordinator/Executive Editor Ari L. Goldman has been teaching at Columbia Journalism School since 1993. He is the director of the school's Scripps Howard Program in Religion, Journalism and the Spiritual Life. Since 2000 and under the aegis of the Scripps Program, he has taken his religion class on study-tours abroad during spring break. His class has visited Israel, Jordan, Russia, Ukraine and India. Goldman also co-directs the University's Religion-Journalism Dual M.A. Program in which students spend one year at the Journalism School and a second at Columbia's Graduate School of Arts and Sciences studying religion. Before coming to school, he spent 20 years at The New York Times, most of it as a religion writer. Goldman, who was educated at Yeshiva University, Harvard and Columbia, was a Visiting Fulbright Professor at Hebrew University in Jerusalem, a Skirball Fellow at the Oxford Centre for Hebrew and Jewish Studies in England and a scholar-in-residence for a semester at Yeshiva. He is the author of three books: The Search for God at Harvard, a New York Times Notable Book in 1991, Being Jewish: The Spiritual and Cultural Practice of Judaism Today (2000) and Living a Year of Kaddish (2003). He just began writing a regular religion column in The New York Daily News.
Ahmed Shihab-Eldin, News21 Flash producer, built the Columbia project's home page and its immigration timeline, and provided general assistance to the Columbia fellows.
Ahmed grew up in California, Kuwait, Egypt and Austria. He has most recently worked as a news producer for The New York Times and as a web producer for the PBS international documentary series, Wide Angle. His work has been featured in Frontline/World online, TimeOut, Washington Week and other blogs.
He graduated from Columbia University's Graduate School of Journalism, where he now teaches as an adjunct professor for new media skills. He hopes to one day adopt a dog and produce a feature-length documentary film, but not necessarily on the same day. His family is originally from Palestine.
Duy Linh Tu, multimedia consultant to Columbia News21, is a multimedia producer, journalist, and educator. He is the co-founder and Creative Director of Resolution Seven, a New York City-based video and DVD production studio. His clients range from non-profit groups to very-much-for-profit corporations. Resolution Seven produces commercials, industrials, and short- and long-form documentaries.
Duy has been a full-time faculty member at the Columbia Graduate School of Journalism since 2001, where he coordinates the New Media Program. Duy is a lecturer at MediaBistro, where he conducts seminars on topics such as podcasting and multimedia journalism. Over the past six years, Duy has trained hundreds of journalists, producers, and other content creators interested in learning the tools of multimedia journalism and production.
Duy received his Masters degree in journalism from Columbia University. He is a board member of the New York Film/Video Council.