Karim Bardeesy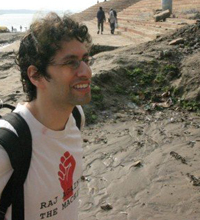 Karim Bardeesy is entering his second year in the Master's in Public Policy program at the Kennedy School of Government, and is the News21 fellow from Harvard University. He has a BA in Political Science from McGill University, was most recently a political assistant and policy adviser to the Ontario Minister of Finance, and has worked as a researcher for Toronto Life magazine and the Canadian Broadcasting Corporation. He is the Co-Editor-in-Chief of the Kennedy School Review in 2007-08.
With Anna-Katarina Gravgaard, Karim worked on a major project to identify and profile elected officials in America who are immigrants or from minority religious backgrounds. The project includes seven video profiles of politicians which took Anna-Katarina to California, Minnesota, Iowa, and New Jersey, and an interactive map featuring sketches of over 40 elected officials. Karim and Anna-Katarina invite comments to allow them to add to this map of elected officials.
Karim also did a profile of Oklahoma singer-songwriter Kareem Salama and reviewed a new book on immigration and America's religious landscape for News21.
News21 stories by Karim Bardeesy
Contact: